PFI rally turns violent: One killed, many injured
Comments::DISQUS_COMMENTS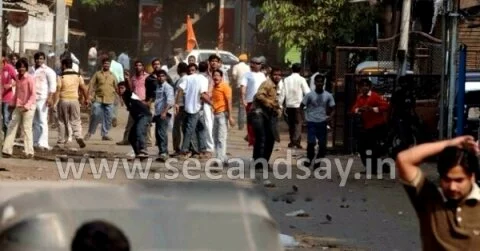 Shivamogga: Ekatha Jatha for Democracy (Unity March) taken out by Popular Front of India turned violent as communal clash erupted between two groups resulting in the death of one person and injuring many others. The incident took place on Thursday February 19 in Therthahalli. Police immediately responded to the situation and after dispersing the groups prohibitory orders has been imposed.
It is reported that a group questioned about the raising of pro-Pakistan and anti RSS slogans from the people gathered in the march. They also told to stop shouting those slogans but the other group did not agree. This gave rise to tense moments and at one stage, the two groups seemed to be headed for a pitched, battle after heated words were exchanged between them.
Later while returning from the programme some PFI activists attacked a person named Vishwanath (40), a resident of Alkola village near Gajanur Camp in the district. Vishwanath, who was assaulted with lethal weapons, was grievously injured, and died on way to hospital.
The activists of PFI continued to raise slogans even after the police asked them to desist from doing so. Near the vegetable market, some stones were hurled at the procession. In retaliation, stones were pelted, and shops and stalls were set on fire at Gopi Circle and Gandhi Bazaar. A vehicle that was carrying the mortal remains of a person in a casket, also was rained with stones.
After petty shops selling sugarcane juice, fruits, tyre puncture repair shops and others were gutted by fire, merchants began closing down their shops on Nehru Road, Durgigudi, Garden Area, B H Road, Gandhi Bazaar, etc. As people rushed back to homes, streets wore a deserted look.Those injured in the lathi charge were admitted into Mcgann Hospital.
The policemen had to resort to caning to disperse the clashing groups. The trouble also spread to Gajanur, Ooragadur and other areas in the outskirts of the town. Additional police contingents were deployed in strategic places. A day's holiday for Friday has been declared for all the schools and colleges in the town. It is learnt that five persons were arrested relating to this incident.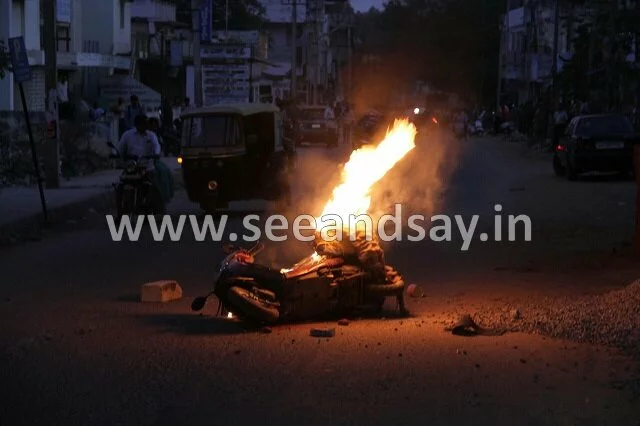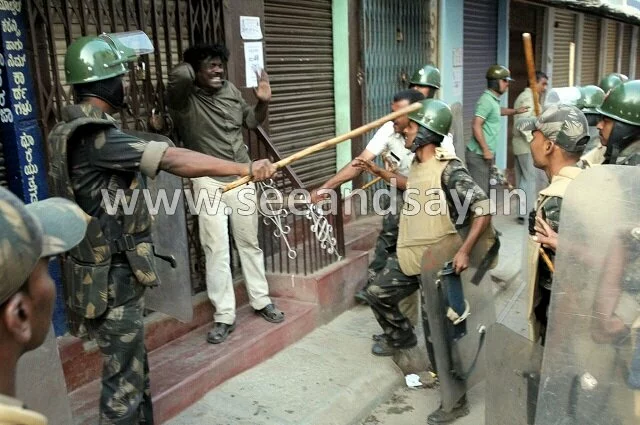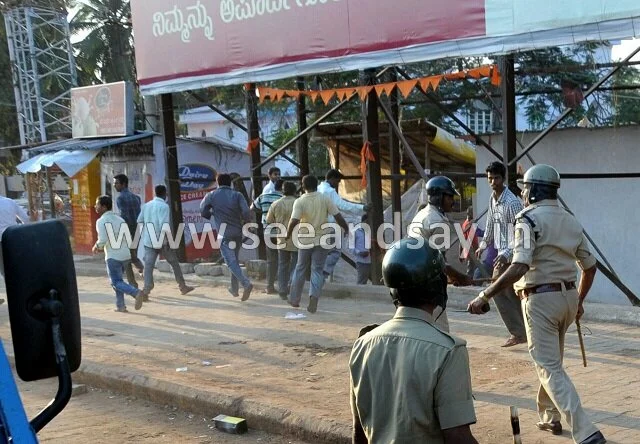 Related items
Line man dies due to electric shock in an electrical pole
Blogger hacked to death in Bangladesh: Fourth case in six months
Child and Woman die in an accident during police inspection
Sajipa Munnur attack victim dies in hospital