Mental health care plagued by superstition, says PM Modi
Comments::DISQUS_COMMENTS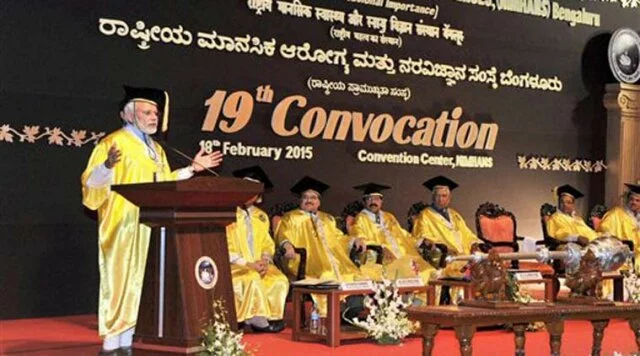 Prime Minister Narendra Modi addresses the 19th convocation of NIMHANS, in Bengaluru on Wednesday.

Mental healthcare in India is plagued by the problems of lack of knowledge, awareness and superstition, Prime Minister Narendra Modi said here on Wednesday while delivering his convocation address at the National Institute of Mental Health and Neuro Sciences.

Superstition often blocks treatment and cures for the mentally ill and people need to understand that mental illness can be treated and is curable, the prime minister said. Skill, education and empathy are essential qualities doctors must possess for treating patients with mental ailments, he said.

In another event in Bangalore, the prime minister dedicated to the nation a Centre for Nano Science Engineering at the Indian Institute of Science.

The centre is considered among the most sophisticated and comprehensive cluster of micro and nano-tech laboratories in India and is designed to provide R&D leadership in the areas of nano-electronics and nanotechnology considered key to the 'Make in India' initiative. The Prime Minister also unveiled the foundation for a Centre for Brain Research that is being established at IISc.

IISc scientists provided Prime Minister Modi with an overview of its research activities in areas like solar energy, water management and agriculture. The PM also visited the Institute for Stem Cell Research at the National Centre for Biological Sciences. In an interaction with scientists at ISCR PM Modi discussed research on traditional Indian medicine, cutting edge research activities at the lab and his own 'Make in India' initiative.
Related items
Desperate Congress wants power to remain concentrated with one family: PM Narendra Modi
PM Modi meets prize winners of Techno-Challenge 2015
Commander-in-Chief of Myanmar Defence Services meets PM Modi
President on two-day Karnataka visit from tomorrow