Illegal extraction of sand along Lakshmantirtha continues
Comments::DISQUS_COMMENTS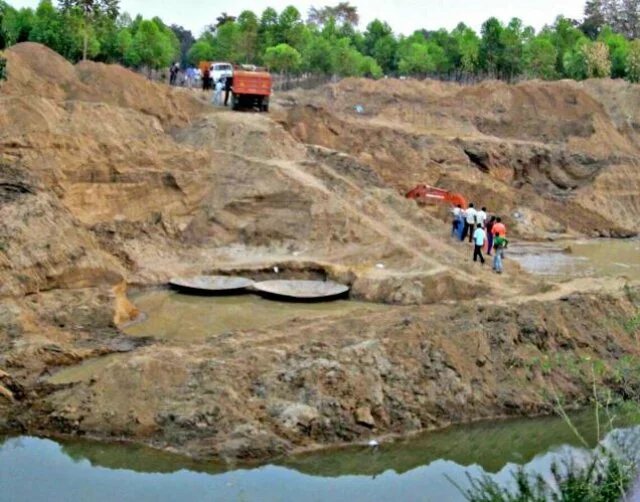 Mysuru: Illegal extraction of sand is reported to be taking place at Lakshmantirtha, a tributary of Cauvery, along the fringes of Nagarahole National Park near here to meet the demand of sand by the construction industry, which has been severely hit by the Supreme Court ban on riverbed mining.

The large-scale extraction of sand from the riverbed near Konanahosahalli and Billenahosahalli in Hunsur taluk, which has been continuing for the last several months with impunity, is believed to have created large craters along the course of the river that bisects Mathigodu and Veeranahosahalli ranges of the national park.

Sources told The Hindu that around 150 to 200 trucks transport the illegally extracted sand every day. Sharing photographic evidence of the plundering of the riverbed, the sources said that the course of the river is pockmarked by craters that are more than 7 feet in depth. "Right now, the water flow in the stream is less due to the onset of summer. But, when the river flows during and after the monsoon, anyone venturing into the river gets caught unawares as the depth of the river would have sunk due to the sand extraction", the source added.

Apart from the iron boats, which are conventionally used in the mining of sand, the mafia is believed to have deployed excavators for more effective extraction of sand from the riverbed. Sand is usually extracted by workers, who sail in an iron boat to the middle of the river, dive down and manually lift the sand from the riverbed and load it onto the boat. But, here the mafia is dipping the iron boat into the river and scraping the riverbed of its sand and pulling the boat with ropes before loading the sand onto the waiting trucks. When The Hindu brought the matter to the notice of Minister for Forests B. Ramanath Rai during his visit to the city on Friday, Mr. Rai checked up with officials of the department, including Principal Chief Conservator of Forests (PCCF), Wildlife, Vinay Luthra, and Additional Principal Chief Conservator of Forests, Wildlife, C. Srinivasan, and clarified that the illegal activity was not taking place inside the forest limits. "We can act only when the illegal extraction is taking place inside the forests".

However, sources pointed out that the illegal extraction of sand was taking place barely 20 to 25 metres away from the forest boundaries. Meanwhile, Superintendent of Police, Mysuru district, Abhinav Khare said he would look into the matter.
Related items
Swacch Bharath Abhiyaan: Mysuru tops in the list
Sand mining allowed in the district, only for internal use
Yaduveer crowned as Maharaja of Mysuru
19 sand lorries taken into custody in Moodbidri