First-of-its-kind Mobike Ambulance service launched in city
Comments::DISQUS_COMMENTS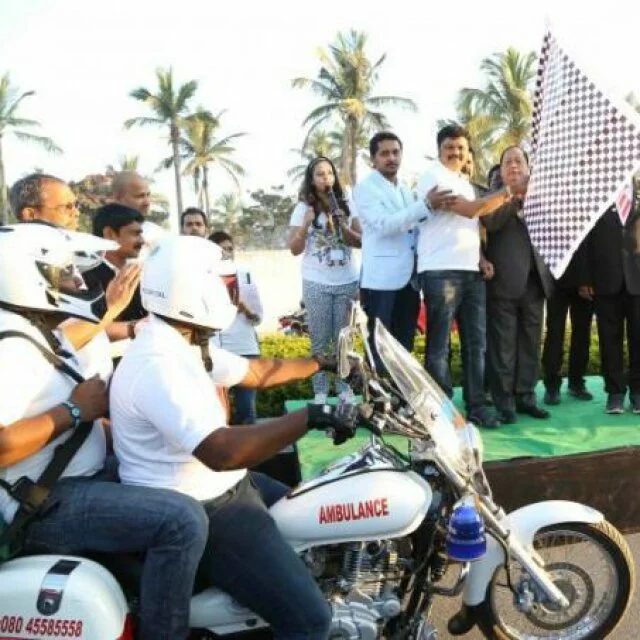 Bengaluru:A first-of-its-kind Mobike Ambulance service was launched in the city by the Chris Super Speciality Hospital and Research Centre. Karnataka Director General of Police, Lalrokhuma Pachau flagged off the service on February 21.

The special two-wheeler mobile ambulance service will reach the needy people like accident victims at the earliest to provide them medical aid on the spot.

Speaking with iamin, Dr Robert Christopher, chairman and managing director, Chris Super Speciality Hospital and Research Centre, said, "He got this idea while he was in the US, when former minister A Krishnappa died. Krishnappa's vehicle was stuck in a traffic jam and that's how he lost his life. I do not want people die due to lack of first aid or ambulance facility," Christopher explained.

Two Mobike Ambulance vehicles have been launched for this service and will be available round the clock. These vehicles are equipped with all life-saving medicines, IV fluids, minor surgical equipment, oxygen cylinders, nebulizers, pulse oximeters, glucometers, laryngoscope, etc.

Christopher added, "A mini surgery can also be done with the available equipment. Our objective is to provide the much needed medical help in time and help the victim to reach hospital for further treatment."

The drivers of the Mobike Ambulance are trained paramedics who will be taking care of the victim till they reach a hospital. Once the message of accident is received, the Mobike Ambulance will immediately rush to the spot and the paramedic will start first aid treatment.

"We are not charging any fee for this. It is absolutely free. Citizens can avail this service by contacting – 080 4558 5558," he said.
Related items
Bike knocks a pedestrian to death
Bus and bike collision: 5 people injured
KMC launches MARS: 24 hour Ambulance service
Parked bike stolen in Puttur