Arts, science courses facing a bleak future?
Comments::DISQUS_COMMENTS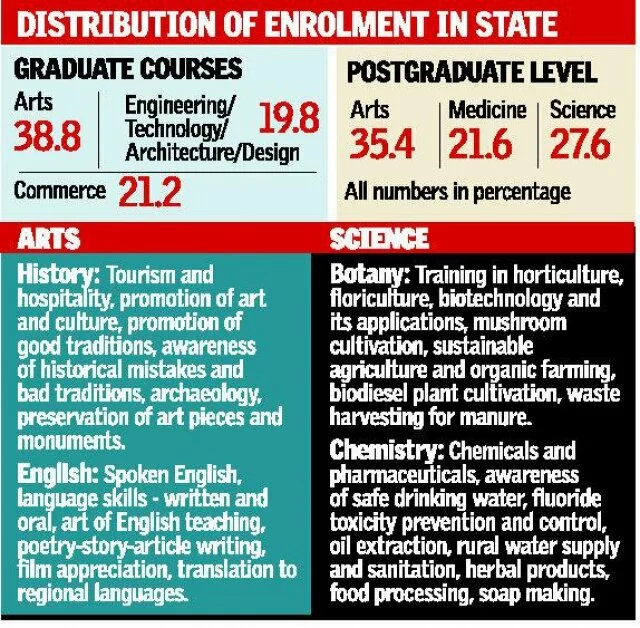 Bengaluru: Another admission season is on the anvil and undergraduate colleges are already fretting over the future of their arts and science departments. Over a dozen departments offering the two streams have closed in the last few years, losing the battle to commerce, medical and engineering courses. Managements say there may be more closures this year.

A management representative, on condition of anonymity, said the problem is mainly with non-autonomous colleges such as his, which could not form corrective measures on their own as they need the affiliating university's nod. "It is not viable to run these courses without a minimum strength, but most colleges retain them with the hope that the number of students will increase eventually," he said.

Those likely to down shutters are departments with single-digit admissions. Chances of revival are slim, say management representatives, as these courses are failing to attract the "best talent". Efforts to redesign and revive general education courses with 'skill-infused learning' have been met with lukewarm response. Very few universities have submitted feedback to a committee, constituted under the chairmanship of K. Chidananda Gowda, which had recommended restructuring three-year courses into a four-year one. Prof. Gowda also said it is vital to redesign arts courses, which are being pursued by a major percentage of students in the State. Colleges say they don't have autonomy to implement other suggestions, such as introducing allied courses. "Unless universities take the initiative, colleges cannot do much. This is a problem mostly in city colleges where students prefer professional or job-oriented courses rather than traditional ones," said B.S. Srikanta, from the Bangalore University First Grade College Principals' Association.

 


Related items
Pact signed with King's College
Syndicate member of Rajiv Gandhi Health University Dr.Raghu felicitated
Al-Shabab militants attack University: kill 147 students in Kenya
Good news for chocolate lovers!