Karnataka Governor walks out during national anthem, triggers controversy
Comments::DISQUS_COMMENTS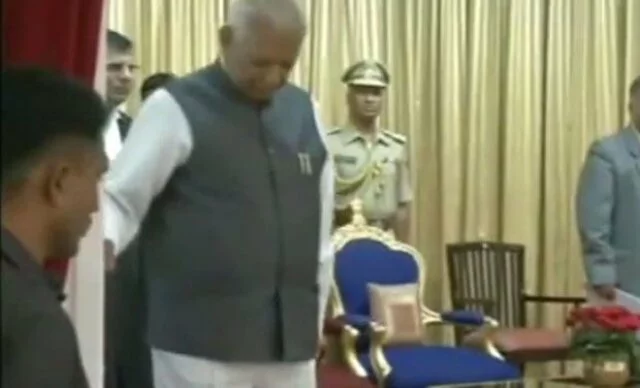 Bengaluru: Karnataka Governor Vajubhai Vala walked off the podium when the national anthem was being played at an official function at Raj Bhavan on Tuesday, landing him in a controversy.

Mr Vala, who administered the oath of office to Justice Raghavendra Singh Chauhan as a Judge of the Karnataka High Court, walked down the stage as the national anthem was being played as per protocol.

As the Governor, who appeared unaware of the national anthem being played, walked off, others on the dais and guests stood in attention.

Mr Vala's act left everyone present, including Chief Justice of Karnataka High Court DH Waghela, Justice Chauhan and Chief Secretary Kaushik Mukherjee who were on stage, surprised.

However, as Mr Vala was walking away, one of the Governor's aides alerted him about the lapse, following which he soon returned to the podium and stood in attention.

There was no word of explanation from Raj Bhavan, as the visuals of the incident were aired by TV channels, raising a controversy over showing "disrespect" to the national anthem.


Related items
Congress meeting in gram panchayat office leads to controversy
RBI Governor Raghuram Rajan gets life threat
TDP MLAs suspended for entire Telangana Budget session for 'disrespecting national anthem'
Bunting controversy leads to clash in KC Road