The 'golden daughter' of a farming family
Comments::DISQUS_COMMENTS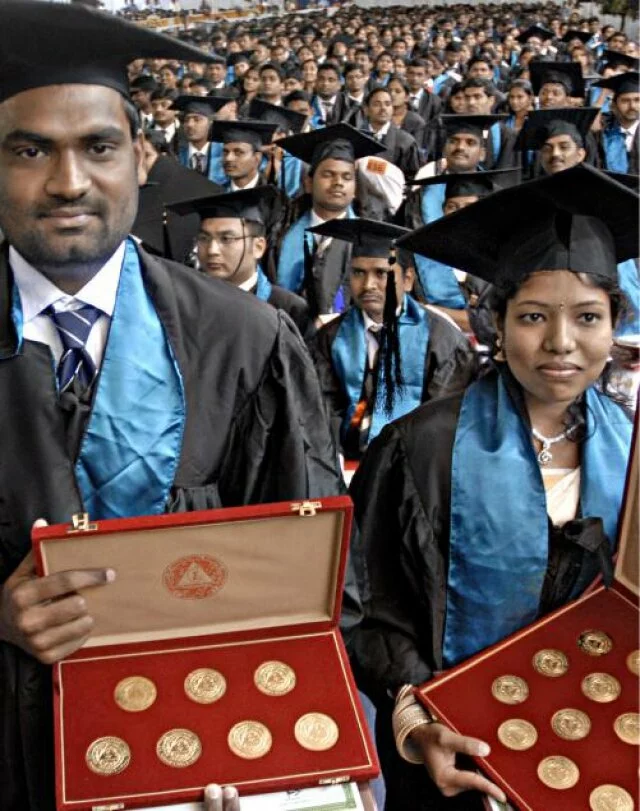 Bengaluru: All that this poor farming family from Doddaballapur taluk has is one acre of land which fetches them just Rs. 11,000 a year.

But, they have a 'golden daughter'. Geetha N., daughter of Narasimha Murthy and Chikkathayamma, graduated with a record number of 13 gold medals at the convocation of the University of Agricultural Sciences-Bangalore here on Saturday.

"My parents were not in a position to bear my educational expenses when I got a seat for an agricultural course. So I took an educational loan to support my studies," says Geetha, who is now pursuing her post-graduate studies in Agricultural Genetics and Plant Breeding with a fellowship from the Indian Council of Agricultural Research.

Excitedly showing her parents the box of gold medals, Geetha said, "Though my parents did not have money, they did everything for me to excel in studies and I owe my success to them."

Having experienced the difficulties of a marginal farming family, her dream is to become a researcher in the field of genetics and plant breeding in a bid to do something good for farmers in distress. "I am pained to see farmers in distress, especially owing to crash in prices. I want to do something for them," she said.

Geetha also has plans to set up a non-governmental organisation to help farmers. "Please do not quit farming as that is our backbone," is her plea to youth who quit agriculture to move to cities in search of menial jobs. Similarly, A.P.-based Kundur Bharath, who graduated with seven gold medals, also hails from a farming family. He too wants to serve the farming community by becoming a researcher.

 


Related items
Drunken mother eats her daughter's head alive
Shwetha Karnik earns gold medal in M.Tech
Father assaulted daughter sexually: arrested by cops
Man robs bank to arrange dowry for his daughter