D.K. Ravi's body reaches home after autopsy
Comments::DISQUS_COMMENTS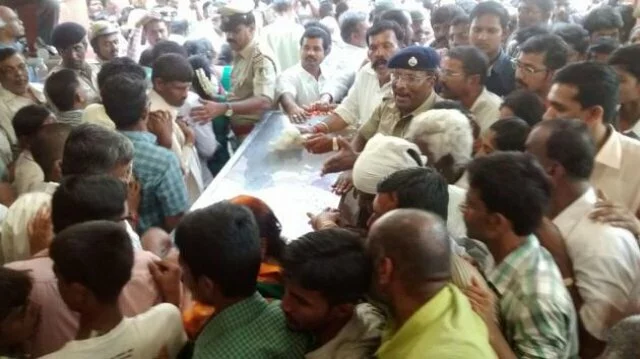 Bengaluru: Autopsy on the body of D.K. Ravi was conducted by a team of doctors led by Dr. Venkataraghavan at Victoria Hospital on Tuesday morning.

The autopsy was completed sometime back and the body has been shifted from the Hospital to his in-laws house in Nagarabhavi. Thousands have gathered at the house to pay homage to D. K. Ravi.

The IAS officer was found hanging from the bedroom ceiling fan by his wife, Kusuma on Monday evening in their apartment in Chikka Adugodi.

Ravi's wife Kusuma was inconsolable while his brother Ramesh and sister collapsed at the sight of the body.

The family of D.K. Ravi is demanding a CBI inquiry into the death.

Mr. Hanumantharayappa, Ravi's father-in-law said, "my son-in-law was like a friend. He was very strong and not a man to commit suicide. We suspect foul play. No death note was also found. If he committed suicide there must be a very strong reason for it. He must have been under severe pressure. The reason for his death, even if its suicide, has to be probed thoroughly which is possible only through a CBI inquiry."

"Maybe an analysis of his mobile phone and laptop may reveal something as to what may have pushed him into taking this step. We demand that the case be handed over to CBI", Mr. Hanumantharayappa added.

After his body was shifted to the Victoria Hospital mortuary on Monday evening, several youths held a candlelight vigil to pay homage. Protests were also held at the hospital. Condolence messages flooded social media.
Related items
Shoddy construction work of secondary schools in the dist: students suffer
Sand mining allowed in the district, only for internal use
DC Ibrahim visits landslide areas in Bantwal
Decision on resuming sand extraction in DK by month-end