D.K Ravi death: BJP, JD(S) demand CBI probe
Comments::DISQUS_COMMENTS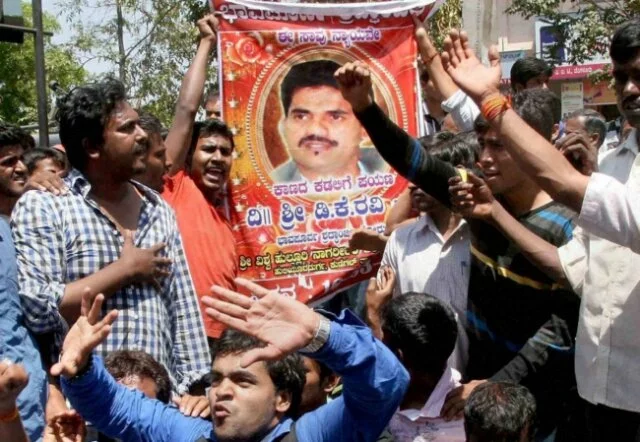 Bengaluru: The death of young IAS officer D.K. Ravi (35), who had taken on the sand mafia and builders in Karnataka, has taken a political turn with the Opposition parties - BJP and JD(S) - demanding a CBI probe into the circumstances leading to his alleged suicide.

Former chief minister and Bharatiya Janata Party (BJP) leader Jagadish Shettar said: "This is definitely not suicide...This is murder. The police cannot wash their hands off the issue by dismissing this incident as plain suicide. I have tremendous respect for the Karnataka Police. But vested interests seem to be responsible for the death of Ravi. The government should hand over the case to the CBI for an impartial probe."

Ravi's suicide led to a furore in the Karnataka legislature where the Budget session is in progress. Leaders, cutting across party lines, slammed the state government for shunting Ravi from one post to another over the past two years. Shettar contended: "His track record as the deputy commissioner of Kolar district was exceptional. At a time when other IAS officers dreaded working in the district, Ravi demonstrated what a committed officer can do. What was the hurry in transferring him out of Kolar district within a year? Is not that transfer premature? We need to get to the bottom of the case."

 

Karnataka Chief Minister Siddaramaiah, who is at the receiving end because one of his close aide's (Public Works Minister H.C. Mahadevappa) son is allegedly involved in illegal sand mining, tried to distance himself from the controversy.

 
Siddaramaiah said: "We are not sure what prompted him to commit suicide. We have lost a sincere and dedicated officer. As regards his transfer from Kolar, it was done at the behest of his family. Please note that we posted him in the Enforcement Wing of the Commercial Taxes Department while taking into consideration his integrity and honesty."

Meanwhile, several towns in southern and northern Karnataka observed "bandhs". The towns of Kolar, Tumkur, Chikkaballapura and Koppala were shut down as a mark of respect to the officer.

Siddaramaiah's effigies were burnt in all these towns. "We had urged Siddaramaiah several times to not transfer Ravi sir from Kolar. Had Ravi not been transferred, today, he would not be dead. We have lost such an important person," said N.S. Reddy, a farmer leader from Kolar.

Protesters stoned the residence of local MLA Varthur Prakash, who had allegedly got Ravi transferred from Kolar. The Opposition staged an overnight sit-in inside the Kerala Assembly. Meanwhile, vehicular traffic on NH4 (Bengaluru-Chennai) came to a complete standstill.

 







Related items
D.K Ravi death case: Final report will be filed; CBI chief
Ravi death case: CBI teams meets chief secretary
D.K Ravi case: Heads will roll once CBI starts probe says Kumaraswamy
IAS officer Ashok Khemka transferred for 45th time: Tweets Moment was very painful