Bengaluru's largest encroachment eviction drive begins at Sarakki Lake
Comments::DISQUS_COMMENTS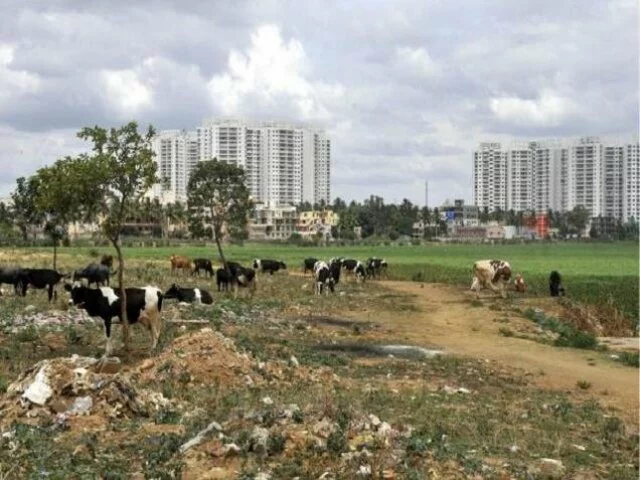 Bengaluru: A four-year-old legal battle culminated on Thursday morning as the revenue department started one of its biggest drives clearing Sarakki Lake of its encroachments.

Multiple surveys of the lake area had shown that 34 acres of the 84 acres of the lake area, has been encroached by private layouts and other establishments. Thirty-four acres spread across three villages Sarakki, Puttenhalli and Jaraganahalli may cost around Rs 2,000 crore in the open market today.

"This is one of the biggest clearance drives we have conducted. It may take up to 10 days to recover the encroached land," said V. Shankar, Deputy Commissioner, Bengaluru (Urban) district.

The district administration has formed three special teams, each headed by an assistant commissioner and armed with multiple earth movers and have taken up the clearance drive.

"We have issued notices to all encroachers multiple times. The High Court has given the order three times already. But this time we are moving in, armed with a court order to take stringent action against encroachers. All encroachers have been served notices a month ago and the date of clearance drive was also notified," said Nagaraj, Additional Deputy Commissioner.

High Court had issued an order in August 2014 to free the lake of all encroachments disposing off a PIL filed by People's Campaign for the Right to Water. Tahsildar Bengaluru (South) had, then, conducted a survey and submitted a report to the High Court showing 135 encroachments in the lake area.

Mr. Nagaraj said that there were a private dental college, a temple and 68 residential buildings in survey number five of Sarakki village, 30 commercial complexes, 42 residential buildings, six temples in survey no five of Puttenahalli village and around 40 residential buildings in survey number seven of Jaraganahalli village.

"Most of the residents of the area have left the houses with their goods anticipating eviction and demolition," he said. He also added that a part of the Bruhat Bangalore Mahanagara Palike (BBMP) built road also encroached on the lake area and it would be cleared.

High Court has given a stay order for the eviction of one Nandini Lakeview Apartments with 21 flats, in the lake area. Mr. Nagaraj said apart from that one apartment complex, they would demolish all other buildings and recover the land.
Related items
After Crocodile, Now Anaconda Pop Out Of Bengaluru's Water-Filled Potholes
Rape on 3 year old child shocks Bengaluru
B'day boy, girlfriend killed in gruesome road accident in Bengaluru
B'day boy, girlfriend killed in gruesome road accident in Bengaluru