Man loses leg as there was no hospital nearby
Comments::DISQUS_COMMENTS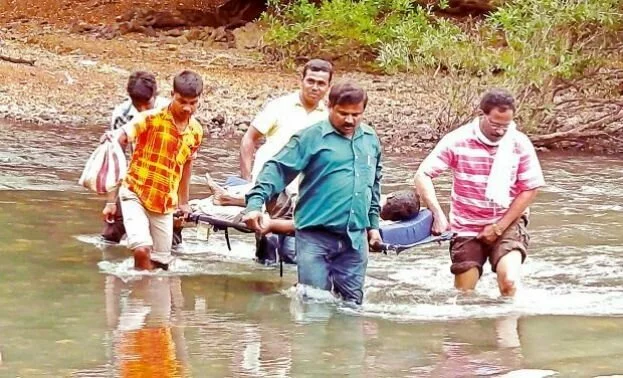 Karwar:  Our state has so many ultra modern hospitals and specialized doctors. But it is quite unfortunate that these modern hospitals and doctors are limited to urban areas only.   In a remote village of Ankola taluk a man lost his leg only because there is no road connecting it to a hospital!
Nyama Santha Gowda (45) of Kotebavi village, about 25 kms from Ankola, hurt his leg a few months ago. Treated at the Karwar government hospital for about 10 days, he returned home, but his wound refused to heal.
However, he found he could not go back to the hospital as the monsoon had set in by then, cutting off his village from the rest of the world. Even in the best of times, in the absence of a road, the villagers need to travel 12 kms across four rivulets to catch a bus at Hattikeri for Ankola or Karwar.
Finding it impossible to get across the rivers in heavy rain, Nyama Gowda could only pray as his leg worsened.  Finally it became necessary to amputate it to save his life. But even this proved difficult as the ambulance could not make it to the remote village and doctors had to be taken on a bike for about nine kilometers and then walk for the remaining three to reach Nyama Gowda's house.
He was then carried across the rivulets before being put into the ambulance that took him to the hospital. As Nyama Gowda is the sole breadwinner of his family, activists are now demanding that he be suitably compensated.
Related items
Eight people hospitalized for dengue
Doctor attacked, robbed by gang of four
Lack of fund, new government hospital building work stalled
Karkala taluk hospital need quick surgery