Police detain one man in ISIS Twitter account case
Comments::DISQUS_COMMENTS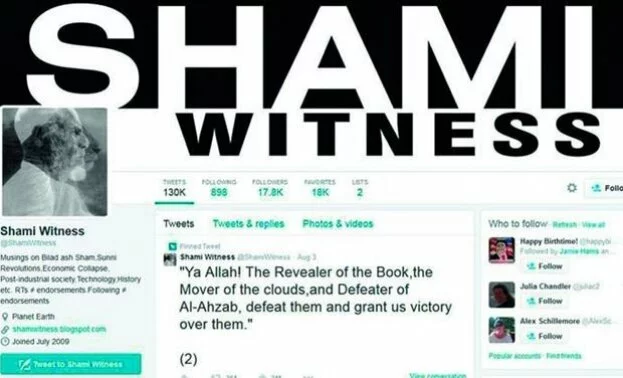 Bengaluru: A man has been detained by the Bengaluru police on Saturday in connection with running a pro-ISIS Twitter handle. The police has refused to reveal the identity of the person.
Earlier, Britain's Channel 4 News had revealed that the notorious Twitter account @ShamiWitness which has been one of the most vocal supporters of the Islamic State and its war in Syria, was operated by a Bengaluru based executive, working in an Indian conglomerate.
The investigation carried out by the news channel in Bengaluru, identified the man as 'Mehdi Masroor Biswas'.
After the investigation revealed the man behind the Islamic State's Twitter account, the account was soon deleted.
The channel also reported that, the man lived a mundane lifestyle, with pictures of 'pizza dinners with friends, and work parties' dominating his Facebook page.
Despite his support for the Islamic State, Mehdi had not gone to fight with them. "If I had a chance to leave everything and join [the Islamic State] I might have," Mehdi told Channel 4, explaining that his "family needs me here." Channel 4, citing his concerns for his safety, did not reveal his full identity.
The Twitter account @ShamiWitness had been one of the most vocal voices online on the war in Syria. The handle had more than 20,000 followers, which included defence and war analysts from various foreign countries.
However, as the Islamic State began to grow in strength, they had found an ally in @ShamiWitness. The twitter account went out of its way to defend the Islamic State, and its actions, no matter how barbaric or inhumane it was.
The series of grotesque beheadings of journalists and other soldiers by the Islamic State shocked the world, yet, no word critiquing them came from the @ShamiWitness.
In November 2014, the @ShamiWitness  tweeted that "May Allah guide, protect, strengthen and expand the Islamic State…Islamic State brought peace, autonomy, zero corruption, low crime rate".
Channel 4 News also went on to elaborate, how the Twitter account would mock the deaths of Kurdish fighters, and express happiness.
The gruesome video of Peter Kassig's beheading was tweeted 5 times by this Twitter account.
Mehdi also tweeted "you bros [brothers] talked the talk, walked the walk", after the death of Iftikhar Jaman, a British based Islamic State fighter, who was killed in an attack by security forces.
Earlier, UK's Channel 4 released late on Friday night a second interview of the man, Mehdi, who the channel has been claiming to have handled the pro-ISIS Twitter handle from Bengaluru, in which the man's voice says he has not waged any war against the Republic of India or it's allies and that he will not resist arrest. But he has said he fears dying in an encounter.
The account, @ShamiWitness, which was reportedly followed by jihadist fighters and Middle East analysts, has been shut down by Twitter.
The Twitter account had more than 17,700 followers with tweets being viewed two million times each month. According to the report, Mehdi's Facebook account was markedly different and had routine updates about dinners and work parties.
Mehdi used to tweet updates to the @ShamiWitness account using his mobile phone.
Meanwhile, in an interview to Indian Express, Mehdi said that his claims to Channel 4 on supporting IS was just a trick to get television reporter off his back.
"When Channel 4 called me first and asked if @ShamiWitness was my Twitter handle, I did not oppose it..my outright rejection would not have convinced them. I therefore decided to admit that I was indeed @ShamiWitness in the hope that they would not air the programme," said Mehdi in an interview to Indian Express.
"But I am telling you that I am not @ShamiWitness. Somebody must have hacked my email account which I used as
This email address is being protected from spambots. You need JavaScript enabled to view it.
and used it to upload stuff. I have been framed. Someone must have planted this," he said.
Related items
Cigarette -Gutka shops raided by the cops in Kundapur
Twitter plans Dubai office
Women's Day celebrations from Yuva Shakti
Hindu Youth Sena leader surrender to police on TV channel attack case