Bank operations hit in Kerala as staff strike work
Comments::DISQUS_COMMENTS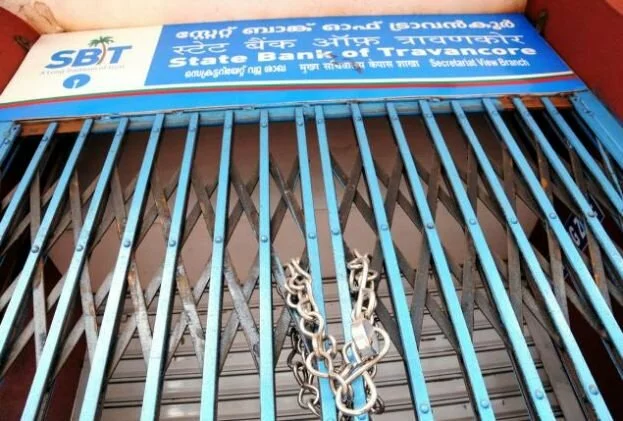 Banking operations in the State were hit on Wednesday as employees of public and private sector banks stayed away from work as part of their day-long all-India strike.

The strike call was given by the United Forum of Bank Unions (UFBU), an umbrella body of nine organisations. Bank branches, including those of gramin banks, remained closed. The strike did not affect the functioning of new-generation banks.

Cheque clearing was hit as clearing houses remained closed.

It would take a few days to clear the backlog, sources said. Reserve bank of India (RBI) offices functioned as usual. The UFBU constituents included AIBEA, NCBE, INBEF, NOBW, BEFI, AIBOC, INBOC, AIBOA, and NOBO.

The unions had been demanding a 23 per cent wage hike. The Indian Banks Association (IBA), the negotiating body on wage revision, had promised a 11 per cent hike in pay slip components, which was not acceptable to UFBU, the organisation's Kerala unit convener, C.D. Josson, told The Hindu .

The strike was total and 45,000 employees took part in the stir. The working of over 5,500 branches in the State was hit, he said.

The salary hike was due from November 2012 as the bipartite agreement had expired on October 31, 2012. Fourteen rounds of discussions were held since then. The latest round of reconciliation talks on Monday had failed, he said.

Mr. Josson said the previous bipartite agreement had provided a 17.5 per cent increase in wages. The banks had been reducing the number of employees and the elements of price rise had not been taken into consideration by the negotiating body, he said. The employees were also demanding 5-day week and pension revision.

UFBU was planning another round of agitation next month. A relay strike would be held in all banking zones. The zonal strike in the southern region, which comprises Kerala, Andhra Pradesh, Karnataka, Tamil Nadu, Telangana, and the Union Territories of Lakshadweep and Puducherry, would be on December 2, sources said.

The workers staged a dharna at the Madhava Pharmacy Junction on MG Road here on Wednesday. The programme was inaugurated by K. Chandran Pillai, former MP.

 


Related items
Govt to pay Rs 50,000 to parents of kids mauled by dogs
Bank staff's mistake makes poor woman richer by Rs 9,571,16,98,647
Moodbidri: MCC bank meet commenced
Student falls off moving school bus; dies