Sree Narayana Guru is on par with Kabir: Rajnath Singh
Comments::DISQUS_COMMENTS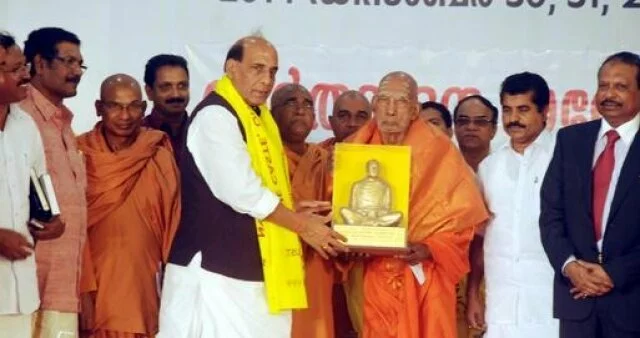 Home Minister Rajnath Singh on Wednesday lauded the examples set by social reformer Sree Narayana Guru, stating that the Guru had heralded a social revolution, the impact of which could be felt across the country even eight decades after he attained 'samadhi'.

Speaking after inaugurating a pilgrims' conference at the 82nd Sivagiri pilgrimage at the Sivagiri Mutt near Varkala, Mr. Singh said during every tough period in the history of the country, a great soul like Sree Narayana Guru had emerged. None could imagine standing up against the systems of caste and untouchability 100 years back, but that was what the Guru did, and the impact of the social revolution he triggered was evident in Kerala even now, with the rest of the country too warming up to his teachings now.

Placing the Guru among a high echelon of saints and social reformers including Kabir, Ravidas, Ayyankali and Pandit Karuppan, Mr. Singh, gave his interpretation of the 'Bhagavat Gita' couplet – 'Sva-dharme nidhanam sreya; para-dharmo bhayavahah' – stating that each person had to follow his/her own dharma/duty and practices of his or her own religion. The Guru too had echoed this concept from the Gita, which in effect obliterated the need for religious conversions.

The Guru had also focused on the necessity of education, not as a thrust for knowledge or for a job, but for commitment to spiritual values as well. His call was for an open-minded approach, stressing on the concept of 'Vasudhaiva Kutumbakam' – 'the world is one family'.

Former Union Minister and BJP leader Subramanian Swamy, delivering the keynote address at the conference, said the Guru had lifted Kerala from a state of backwardness to being the most educated State.

Modern science supported the Guru's concept of oneness, with a DNA analysis on genetics, published in several leading international journals, showing that the people of India 'were all of one single DNA'. The delineations as Dravidians and Aryans were all creations, bogus ones at that, of the British and Macaulay in order to divide and rule the people here. So, even 'those who took to other religions belonged to this country', he said.

Mr. Swamy also called for the setting up of a national university with Central support, focusing on the Guru's teachings and vision, which would help in the modernisation of India, and not in 'Westernisation of India'. Pledging his support and effort for the university, Mr. Swamy also called for a statue of the Guru in Delhi.
Related items
Tippu was great, but Maharana Pratap was greatest of all: Rajnath Singh
Dawood is in Pakistan, will get him at any cost: Rajnath Singh
DK Ravi' death: CM rejects advice from Rajnath Singh to hand over the case to CBI
Tone up law and order, Rajnath Singh tells UP govt