9 kg gold seized at Karipur airport; one held
Comments::DISQUS_COMMENTS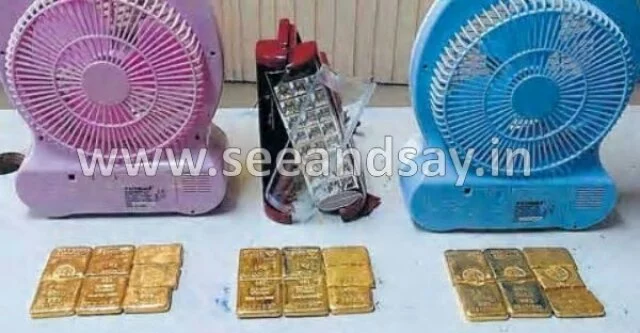 Kozhikode: In a major haul, customs officials Friday seized nine kg of gold bars valued at Rs. 2.45 crore and arrested a passenger who arrived in Kozhikode from Dubai.

Sadat, a resident of the city, had kept the gold bars each weighing one kg concealed in a rechargeable fan and an emergency lamp, customs officials told.

A team led by Assistant Commissioner CN Ravindran and Superintendent Girish Babu made the seizure while checking passengers, who arrived at the Karipoor International Airport
by an Air India Express flight at 5.15 am, they said.

Smuggling of gold from foreign countries, especially the Gulf region, through various airports particularly those in Kerala, Tamil Nadu and Karnataka have become a regular feature during the past year in view of high import duty and restrictions, imposed to curb growing current account deficit.

Though the Reserve Bank in November last eased restrictions by scrapping the 80:20 scheme under which 20 per cent of the imported gold had to be mandatorily exported, there has been no let up in smuggling bids.

At Karipoor airport itself, customs officials had made several seizures in the past few months, including 10 kg of gold on December 7. Yesterday, Rs. 15 lakh worth gold was seized from a passenger who arrived from Sharjah. Customs officials in Coimbatore airport made the biggest- ever haul of smuggled gold on December 31 when they seized five kgs of the precious metal valued at about Rs. 1.26 crore from a passenger who arrived from Singapore two days ago.