`Sandesh One' women empowerment plan by Kerala government
Comments::DISQUS_COMMENTS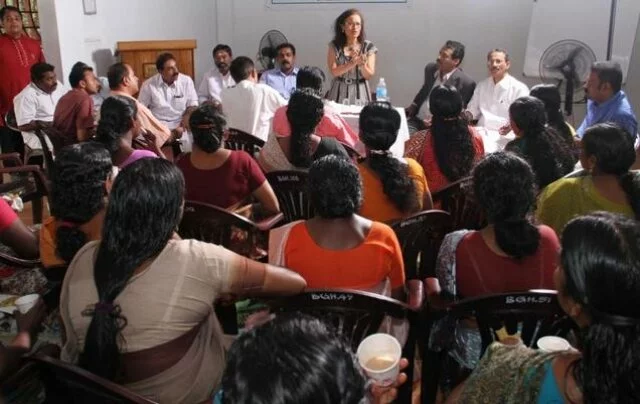 Thiruvananthapuram: Kerala state is racing on its way of women empowerment with its innovative ideas. After the success of its women empowerment initiatives like Kutumbashree, a community-based poverty reduction project, and She-Taxi, Kerala is gearing up to set another landmark by creating country's largest social entrepreneurship network of women.

The programme, 'Sandesh One', scheduled to be launched by Chief Minister Oommen Chandy on January 12, will be a network of 1000-plus women to generate mass employment at the grassroots level by promoting various micro-enterprises.

The totally entrepreneur-driven venture is initiated by Kerala State Women's Development Corporation (KSWDC) under the state Social Justice Department.

A top KSWDC official said the core objective of the initiative is to promote and implement socially relevant development initiatives from the grassroots level through a network of empowered women.

"World is witnessing a social enterprise movement. Unlike conventional industries, social enterprise is about developing solutions against pressing societal challenges. 

The Sandesh One programme is designed to achieve this target," KSWDC Managing Director PTM Sunish told PTI.

Over 1000 women entrepreneurs would be selected from village panchayats under the programme and be given a six-month residential training under the aegis of IIM Ahmedabad and IL&FS, a major skill development company in the country.

After getting trained in entrepreneurial skills and knowledge management, these entrepreneurs would open 'Sandesh One Centres' in all panchayats of the state.

The Centres will showcase various micro enterprise projects and their high-end solutions that can positively influence the society and improve quality of lives, he said.

"Sandesh entrepreneurs will showcase projects in areas such as high-tech agriculture, preventive healthcare, water management, waste management, renewable energy, deforestation, safety solutions and so on at each centre," he said.

"They will provide technology solutions to interested entrepreneurs and help them start enterprises in respective areas. They will act as catalysts of socio-economic development," he said.

The centres would help unemployed youth of their locality to come up with attractive micro enterprises, Sunish said.

Sandesh entrepreneurs, who hold the right for all these solutions, can make money as professional consultants for setting up micro-enterprises and by selling products and solutions, he said.

"Thus, a network of 1000-plus women would help provide employment to umpteen number of people. The process will continue and the network will grow up becoming a massive social entrepreneurship movement," he said.

Sunish, also the CEO of the state-run Gender Park, said this is a project which demands zero investment from the government.

"The state government and KSWDC will play the role of just facilitators. The KSWDC will arrange loans for their training and setting up centres. We will also provide them promotional support and ensure tie up with other stakeholders in the government," he said, adding their activities would be monitored strictly.

Besides IIM Ahmedabad and IL&FS, several institutions, including top B-schools, trade associations and about 20 solution providers are also partnering with the initiative. 'Alterneit' is the coordinating agency for the venture.

Apart from the residential training, the selected entrepreneurs would go through a product orientation programme, where they will be familiarised with products and services offered by the Sandesh network.

"We want the Sandesh One network provide the best and appropriate use of technologies and new age enterprises to upcoming entrepreneurs. All these solutions will be provided by recognised solution providers," he said.

On the execution of the project, Sunish said it would be implemented on a Public-Private-Partnership model.

Local bodies can use the Sandesh network to implement many of their programmes and services, he said, adding, the programme would be launched in five districts- Kannur, Kozhikode, Wayanad, Alappuzha and Kottyam- in the initial phase.

The inaugural function is expected to be attended by stakeholders and experts.
Related items
High court gets a new face with three women judges
Kerala UDF in trouble, Mani wants George's exit
Online High-Tec Prostitution at Tiruvanantapura Raided by Cops
Wife among four held for man's murder