Kerala Hummer case: Guard hit by car dies of injuries
Comments::DISQUS_COMMENTS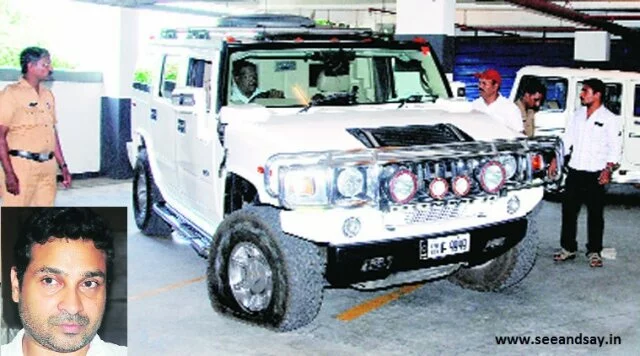 The security guard at Sobha City in Thrissur, who has been seriously injured after a controversial beedi businessman hit him with Hummer SUV, died in a hospital on Monday noon after two weeks battle for life.

K Chandrabose, 47, died at Amala Medical College in Thrissur. He had undergone several surgeries in the last two weeks but had been on ventilator support for last few days after his health deteriorated.

Beedi king Muhammed Nisham had rammed Chandrabose with his Hummer in the wee hours of January 29 alleging there was a slight delay in opening the gate of Sobha city, a residential township, where Nisham owns an apartment.

He was arrested on the same day on charge of attempt to murder. With the victim's death, the controversial beedi businessman would face murder charge.

The victim had died at a time Congress government in Kerala was facing allegations to scuttle the probe into the case. It is learnt that several senior leaders of the Congress and its ally Indian Union Muslim League have been trying to settle the case by offering money to the family of the victim. Although police had busted a cocaine party in Nisham's flat in Kochi, he was not made an accused despite facilitating it.

Soon after the brutal attack on the security guard, police had announced that Nisham, who had been an accused in nearly a dozen criminal cases, would face the stringent clauses under Kerala Anti-Social Activities Prevention Act, which are generally slapped on goons and supari kings.

The attack on the security guard using his Hummer vehicle is a story of absolute arrogance and an almost manic rage. In the early morning of January 29 as Nisham pulled up outside, Chandrabose, in charge of the vehicle movement register, was on night duty inside his cabin. Manning the gate nearby were two other security staffers.

The security men were verifying the vehicle and its occupant before lifting the bar at the gate when Nisham lost his cool. Nisham jumped out of the SUV and started manhandling the staff. Then, he rushed to the cabin, smashed the glass panes and attacked Chandrabose.

According to other security guards, Chandrabose ran out and climbed on top of the fountain in front of the gate. "But Nisham reversed the Hummer and rammed it into the fountain. The huge vehicle reared up to hit the top of the fountain and crush the man against the wall," sources said.

Chandrabose's chest and left arm were crushed between the Hummer and the granite wall of the fountain. He didn't know it then, but his ordeal had just begun.
Related items
Elderly man dies after his two wheeler rams into a compound wall of a pond
Bikes collide head on near Surathkal: One dies, another critically injured
Bike hits electric pole: Rider died on the spot
Three dies after inhaling stench of rotten beef