Newly built village municipal building inaugurated at Badiadka
Comments::DISQUS_COMMENTS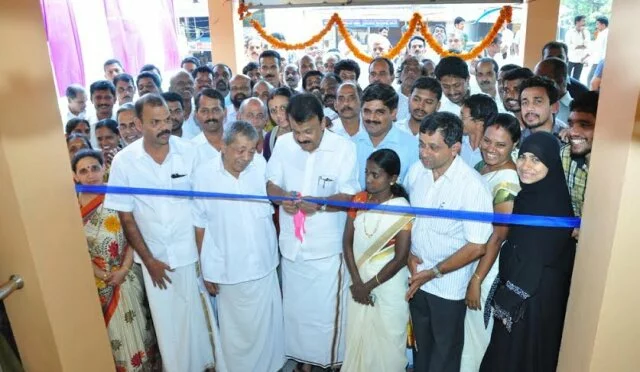 Badiadka: The newly built office premise of Badiadka village municipal with modern amenities was inaugurated by Kasargod MLA NA Nellikunnu on Wednesday March 4.

Speaking after the inauguration he said, the government has the responsibility of providing service to the people in an expected time frame along with changing demands and increasing population. Hence the government has implemented some programs to use modern technologies effectively and upgrade the system.

Installing CC cameras and other modern technologies will not only help in providing people friendly service but also curbs corruption he said.

President of Badidka village municipal Sudha Jayaram informed that the electronic token system will be introduced for the disposal of various applications from the people. Fully computerized cabins will be provided for every department separately. Along with this a conference hall and the new system is adopted for the entry of physically challenged people into the office she explained.

Kasargod district municipal member Pramila C. Naik, block municipal member Rajani Sandeep, village municipal vice president KN Krishna Bhat, members Mahesh Kumar, Valakkunja, Sushils K Bhat, Soumya, Mahesh, Jhoni and many others were present.   


Related items
Eight people hospitalized for dengue
No Swach Bharat in Badiadka
Mobile court of the senior civil judge inaugurated in Moodabidre
66th branch of Bharat bank inaugurated in Ville Parle