IAF flights bring back 358 Indian nationals home
Comments::DISQUS_COMMENTS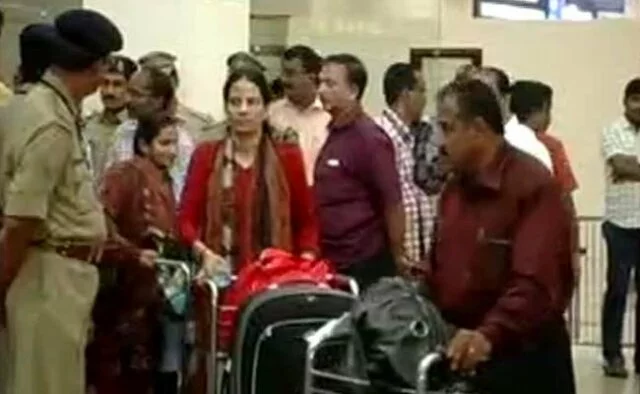 Kochi: An IAF plane carrying 190 Indian nationals evacuated from Yemen landed in Mumbai on Wednesday night, in the government's first major mission to rescue Indians stranded in the strife-torn nation.

The evacuees, which included nurses and workers, among others, reached home in a special flight, thus bringing an end to their about a week-long ordeal.

The Indian Air Force's C-17 Globemaster, carrying them landed at around 3:25 AM at the city's international airport.

This was the second flight in the rescue efforts, as at 2 AM, an IAF plane carrying 168 Indians aboard, evacuated from Yemen landed in Kochi.

Defence sources said that the flight to Mumbai could not take off on time from Djibouti due to the pending paper work of the evacuees.

Many people did not have even their passports with them leading to delay in flight, the sources said.

Maharashtra Tourism and Parliamentary Affairs Minister Prakash Mehta and MP Kirit Somaiya were present the airport to welcome the evacuees.

They were part of as many as 350 Indians who reached Djibouti after being evacuated on a Navy vessel from Aden, the seaport city of Yemen.

Meanwhile, the Central Railway has offered free-of-cost travelling for the evacuees till their destinations.

The evacuation operation was a very difficult task as not much details were available with the IAF, Wing Commander Vikram Abbi, co-pilot of the flight, told PTI.

Abbi said that the crew were told about the rescue operation on March 30 and the flight departed from India yesterday.

One of the evacuees, Mary Amma Vargeese said, she was working as a nurse in a hospital in Aden for past two years.

And, one day she suddenly "heard some exploding sound, after which I stopped going to work."

"All the shops were closed, we didn't have food for many days," she said.

A spokesperson in the External Affairs Ministry has said of the 350 evacuees, 206 belong to Kerala, 40 are from Tamil Nadu, 31 from Maharashtra, 23 from West Bengal and 22 from Delhi, besides other states.

The Indians were evacuated late Monday night by INS Sumitra, which was diverted from its anti-piracy patrol in the region. It waited for hours to get local clearances as heavy fighting was reported in the city.


Related items
120 killed in Yemen in airstrike led by Saudi
Hadi loyalists seize Saudi border crossing in Yemen
Egypt and Saudi Arabia discuss manoeuvres as Yemen battles rage
India a global hero after evacuating nationals of 26 countries in Yemen