Stranded Indians evacuated from the strife-torn Yemen's capital city Sana'a
Comments::DISQUS_COMMENTS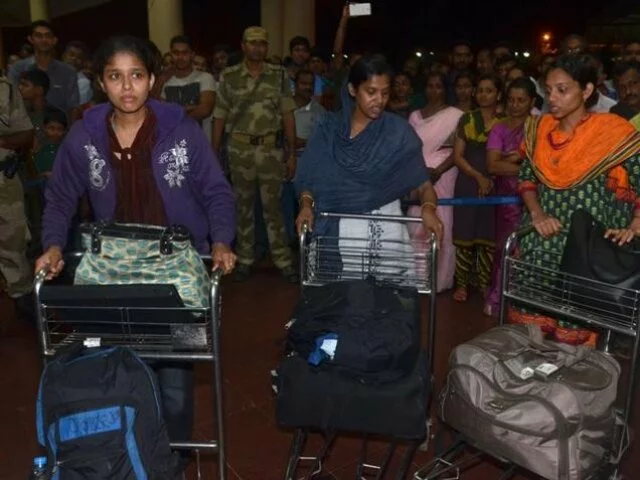 From the first batch of stranded Indians evacuated from the strife-torn Yemen's capital city Sana'a to Djibouti in two sorties flown by Air India on Friday, 106 people arrived here at 12.30 a.m. on Saturday.

They were ferried by an Air India 777 aircraft from Djibouti.

The group comprised 78 people from Kerala, 22 from Tamil Nadu, three from Andhra Pradesh, two from Karnataka and a man from Uttar Pradesh. The rest of the 330 evacuees on the plane continued their onward journey to Mumbai, where they landed a few hours later.

Since there was lingering ambiguity over the identity of the evacuees flown in to Kochi, just a few of them had their relatives waiting outside the airport in the hope that their dear ones would have made it to the flight. But there were also the likes of Ranjan, a resident of Changanassery, who had come with the whole family to receive his sisters, evacuated and brought to Djibouti at Friday noon from Al-Hodeidah, only to realise later that they had landed in Mumbai on the rescue flights flown by the Air Force.

Nearly 30 of those who arrived at Kochi on Saturday were nurses from the Al-Thawra Modern General Hospital, a big 900-bed multispecialty hospital in the heart of Sana'a where 500-odd Malayali nurses are said to be still struck. "Most of us except two who got their exit visas on termination of contract were slated to return availing of our privilege leave. But we seem to have forfeited three months pay and have not got our experience certificate. Scores of others who wanted to travel could not do so as their passports had been withheld and they were denied permission to leave," said Chinnu Scaria, from Vakathanam in Kottayam.

Tincy Thomas, from Elavampadam in Palakkad and a nurse in the same hospital as Ms. Scaria, echoed similar sentiments saying over 300 nurses were stuck in her hostel in Sana'a. She was one of the luckiest to get exit visa.

Minister in-charge of Non-Resident Keralites Affairs (Norka) K.C. Joseph, who was at the airport to receive the returnees, said that several hundred Keralites were still stuck in various parts of Yemen and only a few had been brought home. "The government is totally aware of the situation. Some hospitals there, we are told, were averse to allowing the nurses to leave as they would have to be closed down if all Malayali nurses left. But then, we would do everything to bring home whoever would want to return."

He said 66 Keralites who arrived by Air Force rescue planes at Mumbai on Saturday would be soon brought home; the government would bear their travel expenses.

In anticipation of a bigger number of Keralites on Saturday, Norka Roots had hired six KSRTC buses and private vehicles for their onward journey home. "We thought all 330 would be alighting here, but that was not the case unfortunately," said the minister, disappointedly.

Norka Roots also granted the returnees a travel allowance of Rs 2,000 each.
Related items
Saudi Arabia executes four men
120 killed in Yemen in airstrike led by Saudi
Pakistani man abusing PM Modi and Indian Army goes viral
Hadi loyalists seize Saudi border crossing in Yemen