Pray to God with clean heart and mind: Edneer Swamiji
Comments::DISQUS_COMMENTS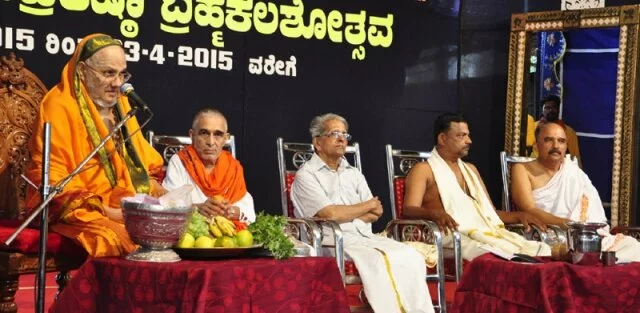 Badiadka: The faith we rest on God should be of pre hearted and with dedication. It takes lot of devotion and effort to get the grace of the God said, Shri Keshavananda Bharati Swamiji of Edneer mutt.

He was speaking after inaugurating the religious program in Rajatadri stage on the wake of installation of new flagstaff and Brahmakalashotsava of Bajakudlu Mahalingeshwara temple.

God accepts prayers made with determination and pure heart. As a clean mirror reflects the clear image a pure heart reflects God ad all the sin is vanished. So one need to keep his heart and mind clean he said.

Director of Kasaragod Institute of Medical Science, Dr. B.S Rao presided over the program. Veteran scholar Vedamurthy Pallattadka Parameshwar Bhat gave the religious lecture.

Hereditary trustee of the temple K. Krishna Shyanbhog was present on the dais.
Related items
When the earthquake forced the 'living God' of Nepal walk the streets for the first time in her life
God will inspire every good work we do: Vidyadhiraja Teertha Shripada
Dead for 48 minutes, this Catholic Priest claims God is female
Hindu Mahasabha announces Godse temple