Killer bus claims lives of two persons and two cattle
Comments::DISQUS_COMMENTS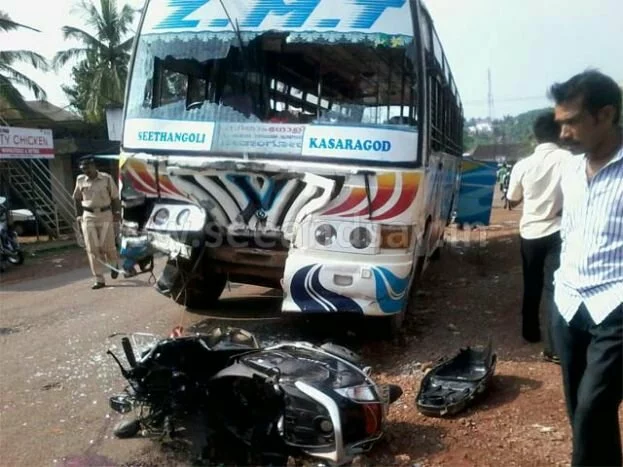 Kasargod: An over speeding private bus created havoc in the city and killed two persons, two cattle and injured two persons. The incident happened on Tuesday October 14 at Seethangoli in Kasargod district. 
The deceased have been identified as Abdul Nasar (36), a resident of Nellikunje CTM and Mohammed Kunhi (40), a resident of Puthige. Naufal (4), son of Abdul Nasar and Irshad (35) were hospitalized in Mangalore with critical injuries.
The incident happened as the driver of the bus named 'ZMT' lost control over the vehicle at Seethangoli due to over speed and hit a cow before knocking down two motorcycles. As a result two persons were killed on the spot and other two were injured.
Furious locals who witnessed the recklessness of the bus gathered at the spot and pelted stones. The protest by angry residents forced private buses to stop service till evening. Many passengers in the bus were also sustained injuries and were admitted to hospitals in Kumble and Kasargod.
Related items
Bike knocks a pedestrian to death
Bus and bike collision: 5 people injured
Car plunges into drainage: car damaged
Diesel tanker rolls down the road catches fire: no causalities