Commuters go on rampage, suburban services stalled for six hours
Comments::DISQUS_COMMENTS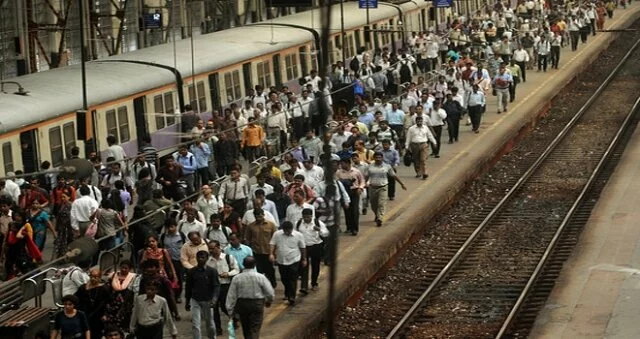 Mumbai: Upset over disruption of suburban train services, irate commuters on Friday went on a rampage setting afire vehicles, vandalising rail property and pelting stones leading to chaos for six hours and leaving thousands of people stranded before services resumed.

he trouble started at Diva station in Thane district after rail services were disrupted when pantograph of a local train broke between Thakurli and Dombivali stations on Up slow line, triggering violent protests by passengers.

During stone pelting by protestors, a motorman of a Kalyan-CST local got injured which led to a flash strike by motormen. However, the services resumed on the Central and Harbour lines as motormen called off their stir after being assured adequate police protection.

"All railway services on the Up and Down lines have been restored completely. Trains are running as usual now. I wish to appeal to the people not to block railway lines when an incident like this takes place. Stopping trains further derails our efforts to restore services in case of a mishap," Central Railway's senior PRO Anil Kumar Jain told media.

Read More: Expert panel recommends passenger fare hikes

Tempers flared up as hundreds of commuters found themselves stranded this morning. Angry protestors squatted on tracks and pelted stones at the railway property.

They also set on fire at least three vehicles, including a police jeep, a Thane civic official said. In the protests, seven automatic ticket vending machines (ATVMs), three booking counters at Diva railway station, Level Crossing Gate Boom at Diva level crossing, two booking counters and six ATVMs at Dombivali station and 10 EMU rakes were damaged, Jain said.

Also the motormen's union called for suspension of operations, until assured of proper police protection. Railway Minister Suresh Prabhu said firm steps will be taken by rail authorities to ensure that the problems faced by commuters due to overload of passengers are eased.

"For the last many years, the suburban rail services are facing an overload of passengers. The number of people taking trains is only increasing with time, but services have not increased correspondingly, which causes problems.

"There needs to be a long term solution to this problem, for which I will speak to the Chief Minister and come out with a plan that will ease commuter tensions," Prabhu told reporters here.
Related items
Railway employees stop trains after arrest of official
Leave of absence to presence: Rahul to address farmers
Mumbai Bunts achievers felicitated
36th anniversary of Veerakesari Kalavrunda