Newly formed literary and cultural committee inaugurated at Bunts Sangha Mumbai
Comments::DISQUS_COMMENTS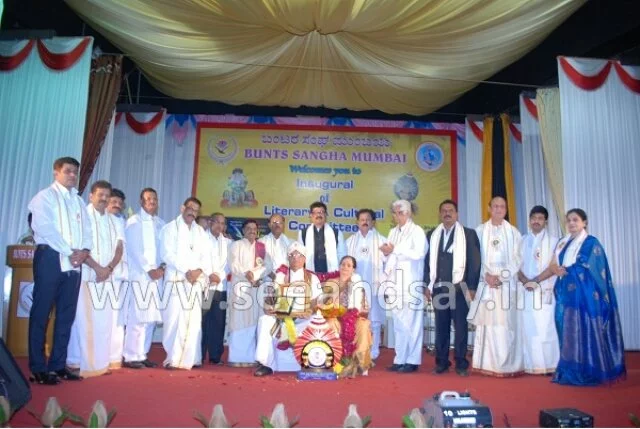 Mumbai: Newly formed literary and cultural committee inaugurated on 4th of January at Radhabai .T.Bhandari hall of Bantara Bhawana Kurla(E).
President Karnire Vishwanatha Shetty inaugurated and conveyed his greetings to the committee.
Later he addressed the crowd and said that bunt's culture is prestigious and one must not forget it. Inter cast marriages must not disrupt our culture he supposed. He praised the help of new secretary, Raveendranath Bhandari.
Pernankila Haridasa Bhat blessed and said that we all came empty handed to the city but we all broght our cultures and sanskar. Bunts have created Tulunadu in Mumbai he said.
Anand.P.Shetty couples were felicitated for their immense support shown towards sangha.
Chief guest of the function, World Bunts Sangha president Aikala Harish said everyone is serving sangha selflessly. He congratulated the sangha for felicitating Anand .P. Shetty.
Guests of honour  Chandrashekhar Palattadi reporter in press, and Santosh Inna the President of Bunt Sangha Pune, Wished all the luck to the committee.
Vice-president Prabhakar.L.Shetty, Ulturu Mohandas Shetty, Kishore Shetty kutyar, Mahesh .S.Shetty, Lata.G.Shetty, Vivek Shetty, Raveendranath Bhandari were present.
Ashok Pakkala and Karnoor Mohan Rai mastered the function.
Ermal Ganesh's Sangeeta Rasamanjari  and Kudroli Ganesh's Vismaya jadoo mesmerized the audiances.
Related items
Bunts Sangha ladies wing celebrates Aatidonji dina
Radhe Maa reaches Mumbai; to depose before police in harassment case
Technical snag,IndiGo flight 6E 178 from Mumbai to Delhi returns to Mumbai
Mumbai journalist who wanted to join ISIS arrested in Delhi