Telangana woman abandons 4 daughters at Kalyan station
Comments::DISQUS_COMMENTS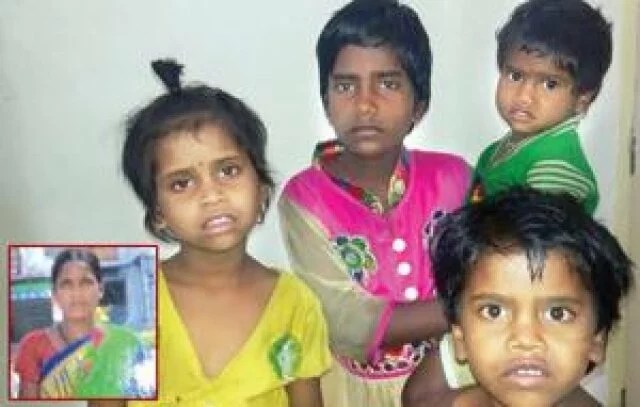 For the last two weeks, the Thane police are trying to trace awoman from Mahabubnagar town in Telangana, who abandoned her four daughters, aged between three and nine, at Kalyan Railway Station on December 28.

Police have already spoken to the father of the girls - Mahalaxmi, 3, Akhila, 5, Sapna, 7, and Rajeshwari, 9, - but haven't been able to convince him to take the girls back home.

Inquiries at Mahabubnagar, around 100 km from Hyderabad, have revealed that the girls' father was an unemployed alcoholic who routinely fought with his wife, Sujata Boya, 32, as the couple didn't have a son. The Child Protection Unit of the Thane Police have temporarily shifted the girls to the Bhiwandi Children's Home, and are trying to persuade their relatives to take their custody.

The incident : The girls, who only speak Telugu, had no idea about the day they boarded the train and where had they been abandoned. Investigation revealed their mother, along with the girls and amale relative, boarded the train from their hometown and landed in Kalyan late on December 28. One of the girls told police through a translator that their mother instructed them to sit on a bench, saying she would bring them food. She disappeared thereafter.

The girls' story : Investigations revealed a story that is common across the rural parts of the country. Villagers told police that the girls' father blamed his wife for not bearing a son, and took to drinking. He would routinely beat up his wife and even the girls.

The girls have told police that the house survived on the money earned by their mother, who did odd jobs. None of the girls went to school. Inspector Madam Ballard from Thane Crime Branch said, "The girls' father has simply refused to take back his daughters. He said we can do whatever we want, but he won't accept the girls. We are speaking to the man's relatives, especially his mother, hoping these innocent girls get a home and a decent life."

The cops are taking help of the village elders, including Mahabubnagar sarpanch Venkat Reddy, to find a home for the girls. "We are also talking to the girls' grandmother," Reddy said.

Meanwhile, cops have a few leads that suggest the girls' mother and their relative are in Mumbai. "The CCTV camera footage shows the woman and a man leaving the station," a Thane Crime Branch officer said.
Related items
Bunts Sangha ladies wing celebrates Aatidonji dina
Radhe Maa reaches Mumbai; to depose before police in harassment case
Technical snag,IndiGo flight 6E 178 from Mumbai to Delhi returns to Mumbai
Mumbai journalist who wanted to join ISIS arrested in Delhi