Mumbai's Ocean's Six scammed jewellery stores using fake DDs
Comments::DISQUS_COMMENTS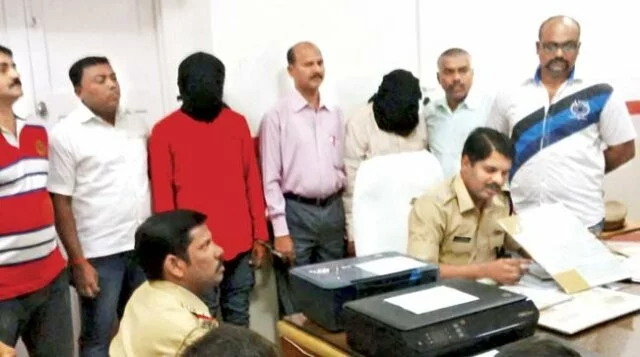 The gang used an ingenious combination of forgery, role-playing, and smooth talk to walk out of a shop at Taj Palace Hotel with a diamond worth R7 lakh after paying for it with a fake demand draft; they had scammed several other jewellery stores in the city, Gujarat and Rajasthan using the same method 

A chance meeting between two strangers while crossing the railway tracks in Nallasopara led to the formation of a gang of jewellery thieves wanted for heists in at least three states. 

The gang, whose ingenious modus operandi involved paying for jewellery with fake demand drafts (DDs), was busted by the Colaba police in December in connection with cheating a shop in the Taj Mahal Palace Hotel out of a diamond worth Rs 7 lakh last year.

"We have arrested Janak Dholakiya (58), Surendra Punjabi (58), Mini Pandey (21), Tina Pandey (20), Ashok Mehta (63) and Rajesh Karani (37). We have recovered fake Indian currency, demand drafts, Aadhaar cards, PAN cards, a laptop, two printers, and a scanner from a rented house in Charkop, Kandivli.

While Dholakiya is the mastermind, Karani is the expert forger. The gang was operational for 2 years," said DCP (Zone I) Ravindra Shisve. The last arrests in the case those of Mehta and Karani were made, and the diamond recovered from Vadodara, this week. Officials said the gang members had used fake demand drafts to 'pay' for gold and diamonds from shops in five-star hotels and malls in Mumbai, Gujarat and Rajasthan.

According to API Sudarshan Chavan of Colaba police station, Dholakiya and Punjabi are both residents of Nallasopara, and had met each other around two years ago, while crossing railway tracks. Dholakiya, who ran a business in Crawford market, became friends with Punjabi and learnt of his skills in forgery.

The duo then decided to carry out jewellery heists using fake demand drafts. While the Pandey sisters got roped in because they were Punjabi's neighbours and were in need of money, Mehta and Karani were known to Dholakiya. API Chavan said that Dholakiya made a list of posh diamond and gold outlets in Mumbai, and personally visited them to confirm that they accepted DDs.

Once they learned that the Dia Precious Jewellery shop in the Taj hotel did so, Punjabi posed as a father looking to buy jewellery for his daughter played by one of the Pandey sisters and entered the shop in June last year, while Dholakiya kept watch outside. The trio bought a diamond worth Rs 7 lakh and paid with a DD, which the employees at the shop did not realise was fake.

The gang tried the same trick with a shop at the Oberoi Trident hotel as well, but had to back off after they realised that the items were handed over to the customers only after the DD was encashed. They were, however, successful, in scamming a shop at a mall in Bhandup, two jewellery outlets in Khar, one in Bandra, several stores in the Surat diamond market, Jaipur, and many other places.

The Pandey sisters got Rs 10,000 for each theft they were involved in, and they were also part of heists in Gujarat and Rajasthan, where Mehta posed as their father, instead of Punjabi. The accused have been charged under sections of cheating and forgery, and several police stations in Mumbai, Surat, and Jaipur have sought their custody.
Related items
The truth behind the mini skirt of Radhe Maa revealed by herself
Bunts Sangha ladies wing celebrates Aatidonji dina
Radhe Maa reaches Mumbai; to depose before police in harassment case
Technical snag,IndiGo flight 6E 178 from Mumbai to Delhi returns to Mumbai