Mumbai-Pune Expressway to be expanded
Comments::DISQUS_COMMENTS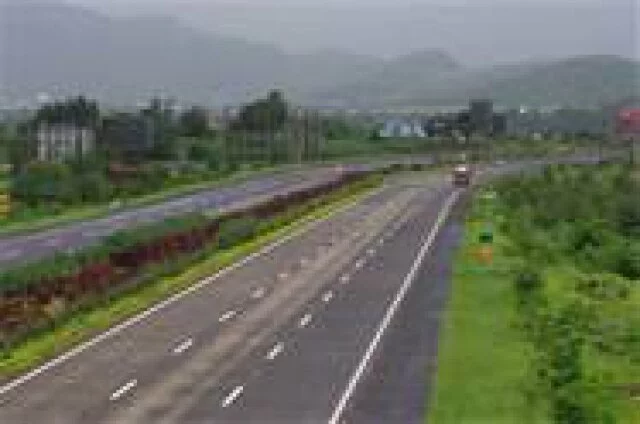 Mumbai/Pune, Feb 5: India's busiest road, the Mumbai-Pune Expressway will be expanded by adding a lane on each side, developing new tunnels and bridges designed to cut travel time between the two cities by around 30-45 minutes, it was announced Thursday.

PWD Minister Eknath Shinde took a team of media persons on a tour of the expressway and gave details on the proposed Rs.7,000 crore expansion projects.

SLIDESHOW BELOW: 10 Indian states with longest National Highways

 
At No.10 is Gujarat, with 3,281 kms of National Highways passing through the state. (AFP PHOTO/Sam PANTHAKY)
 
 
Considered a dream project of the late Shiv Sena founder Bal Thackeray, the existing six-lane (three on either side) expressway was constructed between 1995-2000 during the tenure of the then state PWD minister Nitin Gadkari, now a union cabinet minister.

However, over the past nearly twenty years, traffic has grown manifold and the 94-km long expressway has acquired a reputation for huge traffic jams and scores of accidents claiming many lives.

"Now, we plan to expand the expressway to eight-lanes by adding one lane on each side to make the traffic faster, smoother and safer, besides cutting travel time by around 30-45 minutes," said Shinde.

The proposal to expand the expressway - officially named Y. B. Chavan Expressway - took roots under the previous Congress-NCP regime in 2013 and now the new government has decided to go ahead with the plan.

The expansion would include a new 12-km-long Lonavala bypass with an eight-km-long tunnel and two cable-stayed bridges at various strategic points on the existing expressway.


 Besides this, the old Mumbai-Pune Highway No. 4 would also be expanded from existing four-lane to six lanes, the minister added.

To increase safety on the route, air ambulances will be deployed and trauma care centres set up to render timely assistance to accident victims.

The Mumbai-Pune Expressway is India's first six-lane, fully concrete, high-speed, access-controlled tolled road connecting the country's financial and entertainment capital (Mumbai) with the state's cultural and academic capital (Pune).
Related items
Mumbai rains: trains rescheduled
Mumbai liquor poisoning: death toll rises to 90
Heavy downpour paralyses normal life in Mumbai
Annual festival of Mahalingeshwar Temple Mumbai