The BJP has stepped up pressure in getting a ban on the slaughter of calves in Maharashtra.
Comments::DISQUS_COMMENTS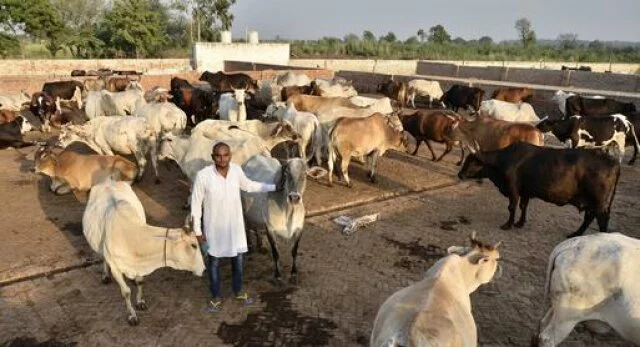 Mumbai:On Thursday , seven BJP MPs led by Kirit Somaiya, MP, Mumbai North, met President Pranab Mukherjee in New Delhi and submitted a memorandum to him seeking his assent to the ban on slaughter of calves in the State. Cow slaughter is already banned in the State under the Maharashtra Animal Preservation Act (MAPA) but right-wing groups have for decades fought to extend the prohibition to the killing of calves, which could be slaughtered after acquiring the 'Fit for Slaughter' certificate from civic authorities.

The Maharashtra Preservation (Amendment) Bill, 1995, which came into existence during the previous Sena-BJP government, is pending for approval for last 19 years. The Bill was first submitted to the President of India for approval on January 30, 1996. Over that period several correspondences were "exchanged between Maharashtra government and  the Centre for clarifications and also to study the effects of the implementation of the Bill on agriculture and farming," the petition to the President read. After his meeting with Mr. Mukherjee, Mr. Somaiya expressed confidence and tweeted that the Bill would "become an Act by next week." The other BJP MPs signed the petition were Anil Shirole, Gopal Shetty, Sunil Baliram Gaikwad, Kapil Patil, Nana Patole, Sanjay Kaka Patil.

However, critics have said the BJP government was trying to please right-wing groups in the State. Immediately after coming to power, Devendra Fadnavis have the approval to the Bill, with all its clarifications, on November 12, 2014.On November 13, the Bill was then sent to the Ministry of Home Affairs.

BJP spokesperson Madhav Bhandari said the party associated a "sentimental value" to banning the slaughter of calves and warned detractors to not link the Bill will religion. "This is done keeping in mind the needs of the agrarian society. This is in interest of agriculture, which employs lakhs of people, who belong to different communities, not one religion," said Mr. Bhandari.

The previous saffron government (BJP-Sena coalition) had passed the Maharashtra State Animal Preservation (amendment) Act (1995) but subsequent governments at the centre, including the BJP led NDA stalled it and they did not seek the President's consent for it. Repeated demands of the BJP to formulate the law went unheard during the tenure of the Congress-NCP in the State. However, barely two weeks after coming to power, the BJP government sent the Bill for the President's consent. Mahesh Pathak, the secretary of animal husbandry department, wrote to the Union ministry of home affairs on November 13 expressing the State government's wish to follow up on the bill and urging the Centre to obtain the President's consent at an early date.
Related items
BJP notice to Purohit as sting leaves party red-faced
Bhajarangdal, BJP builds home for an old woman
Cow thieves arrested in Kundapur
Mangaluru: BJP demands resumption of town hall renovation works