Modi's brother takes up the cudgels for ration shop keepers
Comments::DISQUS_COMMENTS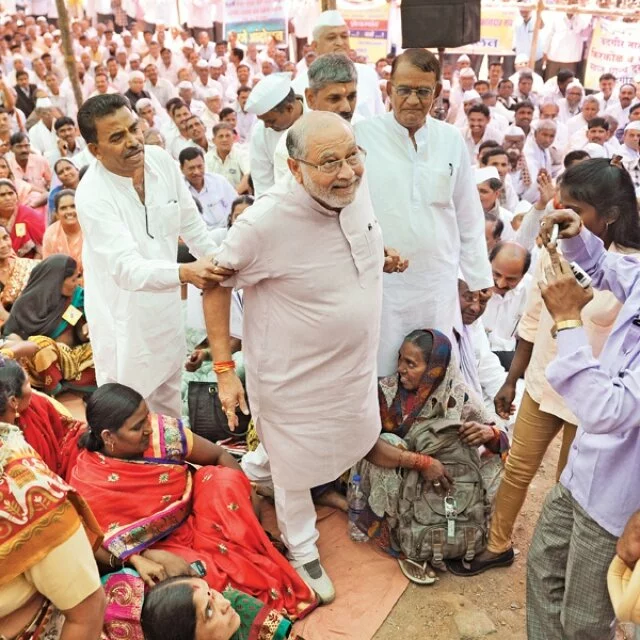 Mumbai:Prime minister Narendra Modi's younger brother Prahlad has warned the BJP that ration shop keepers could sink the party in the upcoming UP and Bihar elections, if their demands are not met.

Prahlad, a fair price shop owner in Gujarat and vice-president of the All India Fair Price Shop Dealers Federation, said the shop keepers would agitate at Jantar Mantar in Delhi on March 17.

Prahlad, who was in Mumbai to support the agitation of the Maharashtra State Fair Price Shopkeepers and Kerosene Licensees Association, Pune, began his speech amidst cries of "Modi saheb aage badho..." and said the anger of these shop keepers had singed the BJP in Delhi.

The association is demanding that 76% beneficiaries in rural areas be covered under the food security act (FSA), other commodities too be distributed under the public distribution system (PDS), hike in commissions, distribution of full quota of kerosene, and the plan to introduce cash transfers be put on hold.

Referring to the BJP's tally in Delhi falling from 31 to three seats, Prahlad noted that polls were due in Uttar Pradesh and Bihar. "During the 2014 Lok Sabha polls, I was in UP. For the NDA's victory, 75,000 shop keepers girded their loins. Let (BJP president) Amit Shah say anything today, but we have a share in the 73 seats (won by the BJP-led alliance in UP)," said Prahlad.

"I will tell them, the polls in UP, Bihar are due. If you do not hear us, then things will go out of your hands.... like Delhi," warned Prahlad. He complained that ration shop owners were harassed by police, goons and politicians and just 60% of the allocations meant for beneficiaries were released to them by the government. "They (the system at large) are bigger chors while we are smaller chors," said Prahlad.

"In Gujarat, the condition was such that when my brother became the chief minister, the first blow on ration shops whose transfer as inheritance (varsai) was cancelled," said Prahlad, adding that he had managed to convince his brother to overturn the decision.

He noted that the doorstep delivery of grain for ration shops and the online payment of money for the same in Gujarat had done away with the need for shopkeepers to go to the godowns to fetch grain and stopped 'under the table' payments.

He requested chief minister Devendra Fadnavis to discuss the implementation of any policy decision with the shop keepers to plug shortfalls and go forward.
Related items
BJP notice to Purohit as sting leaves party red-faced
Yoga may bring Modi, CM together
Don't believe in politics that divides people on communal lines, says Narendra Modi
PMO website revamped, now send email to PM Modi directly