"Broaden the interpretation of beauty," the calendar, an initiative to Stop Acid Attacks
Comments::DISQUS_COMMENTS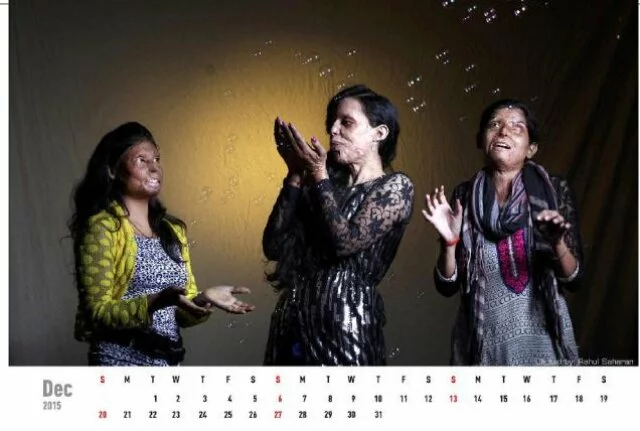 Cruelty may have scarred their skin but not the resolve to achieve their dreams.

As the world celebrates International Women's Day on Sunday, 11 women, whose lives were brutally altered by acid attacks, will look to take the social media by storm through the launch of a calendar that features them.

Aiming to "broaden the interpretation of beauty," the calendar, an initiative of the non-governmental organisation Stop Acid Attacks, will be launched on the social media. Named Bello, which stands for beautiful in Italian, the calendar depicts each of the survivors portraying the dreams they wanted to achieve before the acid attack. If Dolly has posed like a doctor, Sonia is shown as a make-up artist at work, while Laxmi poses with her DSLR camera.

"I was 13 and he 36 when he attacked me with acid in the name of love. He used to tease me when I came from school. I just wanted to study and become a doctor but because of this attack, I am unable to study properly and I have discontinued. But I want to start again, want to fulfil my dreams and serve people," said Dolly on a Facebook post by Rahul Saharan, one of the three photographers featuring in the calendar.

The calendar is to celebrate the beauty and courage of these women and sensitise people to their lives, said Mr. Sharan, who has shot eight pictures in the calendar. "I consider it a social duty to raise awareness of these women. There is a strong need for acceptance of these fighters and change people's perceptions about them," he said.

Acid attack survivors often fall victim to acute depression and de-motivation. Mr. Sharan said the calendar would play its bit in restoring some confidence in the lives of these women. "It's a message to every girl; don't let circumstances and negative people become a barrier in your life. Live your dreams, achieve your goals," Mr. Sharan said.

The funds gathered from the sale of the calendars will be spent on the rehabilitation of the women. The calendar can be purchased online on www.paltan.in The NGO hopes to reach out to millions of people through social media and has appealed to celebrities in Hollywood and Bollywood to share the calendar launch online.

The calendar took over five-six months to shoot.
Related items
Man sets example by marrying acid victim
3 major Indian skin problems (and how to manage them)
Women's Day celebrated at Sullia
Women's Day celebrations from Yuva Shakti