Christian community demands protection for churches in Mumbai
Comments::DISQUS_COMMENTS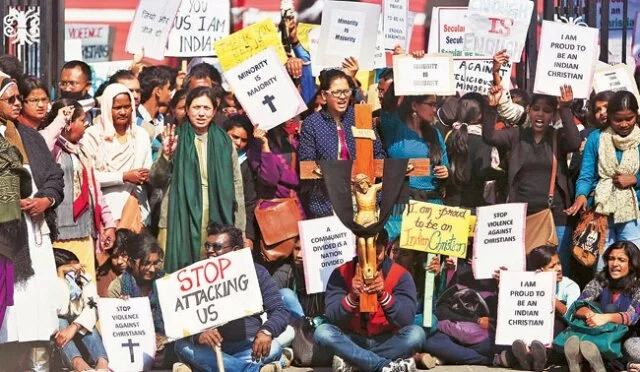 Mumbai: Days after three masked men attacked a church in Navi Mumbai's Panvel area, the Christian community in the city has demanded a foolproof police protection for all churches in Mumbai and neighbouring places. The church was attacked late on Friday night.

"We are worried. We want 24x7 police protection for all churches. Churches were attacked in Delhi and other parts of the country too in the recent past," said Agnelo Fernandes, president of the Maharashtra Christian Youth Forum. He said candle light marches and other protest rallies will not help curb such incidents. "Therefore, we want police protection for all churches," Fernandes said.

"Christians have been living in Mumbai for years. We are not new to the city. There is a substantial population of Christians in the city. However, we are living in fear in the wake of attacks on churches," Fernandes said.

He also said the forum has written to convent schools in the city, requesting them to shut for a day on March 25 to show their solidarity with the community.

"There is a large number of teachers in the Christian community. Their contribution to the society is tremendous," he said.

Blaming the BJP-led governments in the state and at the Centre for such incidents, Fernandes asked why attacks on churches are on the rise nowadays. "We want an answer. When other parties were in power, such attacks never took place. If they claim they don't have any role in this, they should give us protection. Also, those behind the conversion row should be put behind bars," he said, adding the forum would seek police permission to take out a protest rally.

"The Narendra Modi government has not taken any action against the miscreants yet. They have only been doing lip service," advocate Joe Sodder said.

The Shiv Sena, meanwhile, condemned the attack, saying such incidents should not spread across the state.

"Churches were attacked in Delhi and Haryana also. Nobody can ever support such acts. We welcome the statement of Chief Minister Devendra Fadnavis that the miscreants will not be spared," senior Sena leader and Rajya Sabha member Sanjay Raut said.








Related items
Christian woman sentenced to death for 'drinking from Muslim water cup' in Pakistan dying from intestinal bleeding
Catholic Church inaugurated in Abu Dhabhi
1 killed, 15 hurt as under-construction church collapses
May 1st Urwa Church to mark finale of 150th-year celebration