To strengthen the last-mile delivery of goods to consumers, Flipkart has partnered with the Dabbawalas of Mumbai
Comments::DISQUS_COMMENTS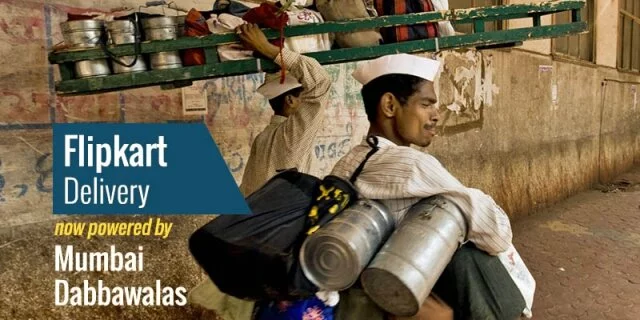 Mumbai:In a move to strengthen the last-mile delivery of goods to consumers, India's leading online retailer Flipkart has partnered with the Dabbawalas of Mumbai, the company has said in a statement.

According to Flipkart, they will partner with the company's delivery network, eKart Logistics. As of now, one union of the Dabbawalas will collect Flipkart shipments from the delivery hubs and deliver it to customers while picking up their dabbas.

"This association is an effort to explore newer delivery channels and opportunities by partnering with this unique community of experts," the company said in a statement. The Dabbawalas will not be interacting with the sellers at this stage. The pilot programme will be for prepaid orders, and when the service expands the company will utilise their services for cash-on-delivery also.

Commenting on the association, Neeraj Aggarwal, senior director, Last Mile Delivery, Flipkart, said: "The Dabbawalas of Mumbai are one of the most reliable and trusted brands in the city. Their unique delivery system has been smooth, reliable and has survived the test of time — even under extreme conditions that are atypical to a city like Mumbai. We are partnering with them and leveraging this unique expertise to enhance our last mile delivery capabilities."

Appoints Peeyush Ranjan

Apart from roping in Dabbawalas for last-mile delivery, the Flipkart also appointed former head of Google's Android One engineering group, Peeyush Ranjan, as a senior vice-president and head of Engineering. Mr. Ranjan, a former head of Google India's R&D section, is presently based at Mountainview, California. He has also managed Motorola's value devices engineering group. In his new role at Flipkart, Mr. Ranjan will work closely with Mukesh Bansal, who is the head of Flipkart Commerce Platform.

Commenting on the new appointment Mr. Bansal said: "Peeyush's experience managing Google's engineering group in India and his expertise in mobile is a tremendous addition to Flipkart's outstanding technology team."

The appointment of Mr Ranjan comes shortly after it hired Punit Soni, former vice president of product management at Motorola and a Google product management executive, as its Chief Product Officer. Both Mr. Soni and Mr. Ranjan will be based at Flipkart's office in Bengaluru.
Related items
Bunts Sangha ladies wing celebrates Aatidonji dina
Radhe Maa reaches Mumbai; to depose before police in harassment case
Technical snag,IndiGo flight 6E 178 from Mumbai to Delhi returns to Mumbai
Mumbai journalist who wanted to join ISIS arrested in Delhi