All India Kannada Journalist's Conclave 2015
Comments::DISQUS_COMMENTS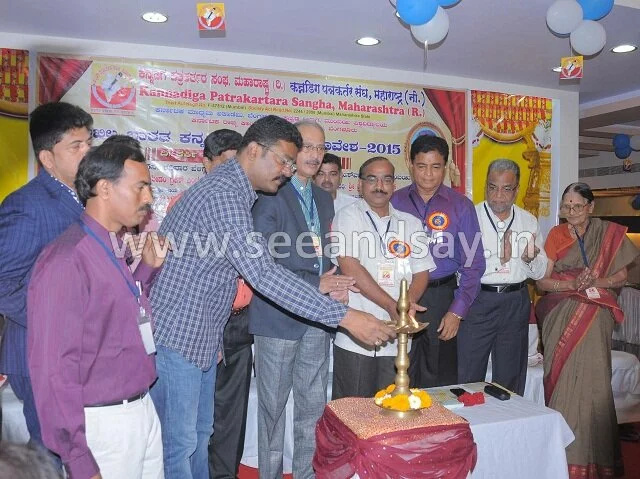 Mumbai: Media must not give much prominence to news related to language and border riots. Media must understand their responsibly and act sensibly to serve the society, said State Media Academy president M.A.Pnnappa.

He was addressing at the All India Journalist's Conclave held at Hotel Dheeraj Thane in Mumbai. The Conclave was conducted by Maharastra Kannadiga Journalists Association, Karnataka Media Academy, and Mumbai University department of Kannada in association with Karnataka Working Journalists Association.

The local MLA Pratap Sarnayak who inaugurated the program said that the journalists in Mumbai love Kannada as well as the state. Karnataka Is 'Matrubhumi' and Maharashtra is 'Karmabhumi' for them. The conclave has overcome beyond border disputes he said.

Rons Bantwal Couples were felicitated by Working Journalists Association. President of by Maharastra Kannadiga Journalists Association  Chandrashekhar Palettadi preside over the program.

Sunita M Shetty, N.K.Billava, Shivaram Bhandari, Shekhar M Shetty Vivek Shetty and others were present.


Related items
The truth behind the mini skirt of Radhe Maa revealed by herself
Bunts Sangha ladies wing celebrates Aatidonji dina
Radhe Maa reaches Mumbai; to depose before police in harassment case
Technical snag,IndiGo flight 6E 178 from Mumbai to Delhi returns to Mumbai