Sensex tanks 855 points; Investors lose Rs. 3 lakh cr
Comments::DISQUS_COMMENTS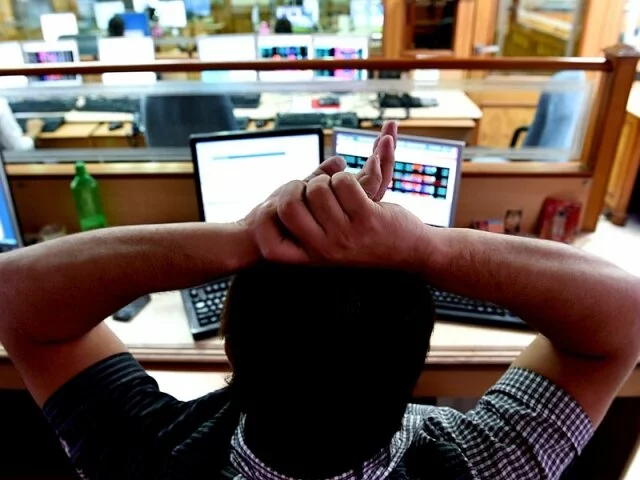 The Sensex tanked 854 points, or 3%, on Tuesday to close at 26,987.46 as falling crude oil prices hit $50 a barrel and political crisis in Greece raised concerns about the global economy's health.

The crash wiped out investor wealth worth Rs. 2.9 lakh crore as BSE's total market capitalisation-the aggregate value of all listed firms - fell to Rs. 96.74 lakh crore. The Sensex last saw a fall of this magnitude on July 6, 2009 when it dropped 869 points.

The National Stock Exchange (NSE) Nifty touched a day's low of 8,111.35 before settling down with a loss of 251.05 points, or 3%, to end at 8,127.35.

Through Tuesday, global markets appeared spooked by fears of a disorderly exit of Greece from the Euro zone. The decline of crude oil price below $50 per barrel, the first time in almost five years, further aggravated worries.

Analysts said domestic shares could be vulnerable to falls with the Nifty having gained 31.4% in 2014, its best gain since 2009, although they also say hopes about an economic recovery and fiscal reforms could prevent excessive declines.
 
Whether foreign investors retreat will be key after they bought a net $16.1 billion last year.
 
"This fall is largely attributed to global factors including crude. I admit that it's a sharp correction, but it will throw more opportunities for fresh money to come in," said Deven Choksey, managing director, KR Choksey Securities.

For India, which imports nearly two-thirds of its crude requirements, the sharp drop in global oil prices could be good news and prompt another round of price cuts in petrol and diesel.

However, economic worries in Europe, a major export market for India, could hurt shipment orders. Besides, a persistent rise in dollar against the Euro could eventually hurt the rupee, offsetting the gains from lower crude oil prices.

Besides, continued uncertainty over Europe's economic prospects could prompt foreign portfolio investors to move funds out of emerging markets into safer locations closer to home such as the US. This could hurt India's equity markets, and dollar outflow could also result in the rupee's slide.

As stock prices plunged, the market was abuzz with rumours that a probable 'fat finger error' - a freak trade caused by punching incorrect keys - had triggered the crash. NSE officials, however, denied this.

Energy companies, tracking the fall in US crude oil prices, suffered the worst with Reliance Industries shares fall 4.5%, while state-owned Oil and Natural Gas Corp slumped 5.7%.

"This is a phenomenon that has been happening since 2009 when foreign investors have been pulling out for reasons purely global," said Dipan Mehta, member, BSE. "We are least affected by the crisis in Greece but still have to face the brunt."

Investors see falling oil prices as indicative of a wobbly world economy, particularly Europe where the Euro hit a nine-year low on Monday.

There are also growing concerns that the opposition anti-austerity party Syriza will ride to power in Greece after national elections later this month. Investors fear this could seriously derail the country's reforms programme laid down in a comprehensive international financial rescue roadmap.

It could also raise the risky prospect of Greece's exit from the Euro zone, the monetary union linked through a common Euro currency.

Barring HUL, all 30 Sensex components closed the day with losses. ONGC was the worst hit with a fall of almost 6%, followed by Sesa Sterlite Ltd, Tata Steel, HDFC, Reliance Industries Ltd and BHEL.
 
Further, all 12 BSE sectoral indices also suffered losses in the range of 1-4%.
 
As many as 2,253 stocks declined, while 644 advanced and 58 remained unchanged in the market.
Related items
Sensex jumps,bank shares up