Naidu meets Modi, asks him to keep promises
Comments::DISQUS_COMMENTS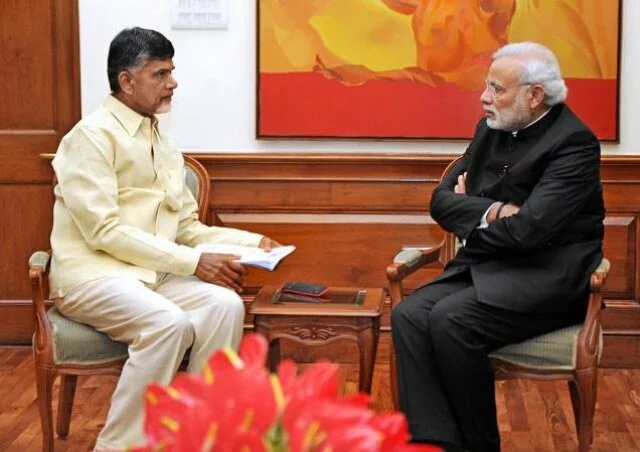 Andhra Pradesh Chief Minister N. Chandrababu Naidu met Prime Minister Narendra Modi in New Delhi on Sunday and impressed upon him the need to implement all provisions of the A.P. Reorganisation Act.

Mr. Naidu is reported to have met the Prime Minister for nearly an hour.

The promise given on the floor of Parliament to grant Special Category Status to AP, funding for capital construction and the need for the Centre to meet a budget deficit of Rs. 16,000 crore are believed to have been taken up by the Chief Minister at the meeting. The other issues reportedly raised by Mr. Naidu include special incentives for industries, enhanced package for backward districts and aid to the State for the expeditious completion of the Polavaram project.

According to TDP sources, the CM was keen that the Centre come out immediately with concrete measures on implementing the provisions of the AP Reorganisation Act. Earlier, Mr. Naidu participated in the Renewable Energy Global Investors Meet and Expo organised by the Power Ministry at Delhi.
Related items
BJP notice to Purohit as sting leaves party red-faced
Yoga may bring Modi, CM together
PMO website revamped, now send email to PM Modi directly
Auto driver gifts Re 1 ride to celebrate Modi's one year