PM's controversial suit auction: Founder of Global Modi fan club puts in highest bid of Rs 1.25 cr
Comments::DISQUS_COMMENTS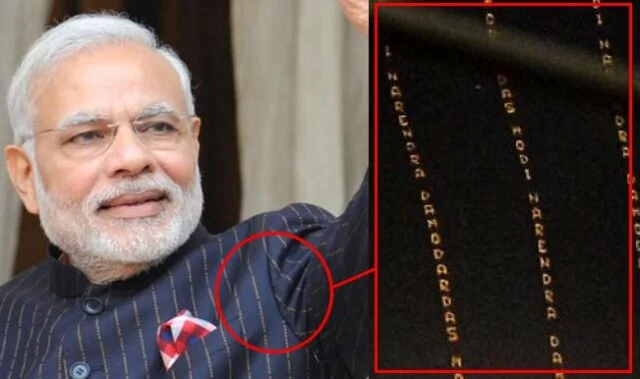 Surat: The auction of Prime Minister Narendra Modi's controversial pinstripe monogrammed suit that he wore during US President Barack Obama's visit to India last month today received a fresh bid of Rs 1.25 crore from a textile trader here.

Surat-based Rajesh Maheshwari, who has established a Global Modi Fan Club, made the offer of Rs 1.25 crore, Rs four lakh more than yesterday's highest bid which ended at Rs 1.21 crore.

Yesterday, another textile businessmen Rajesh Juneja had given a written bid offering Rs 1.21 crore for Modi's navy blue suit, which is the star attraction at the three-day auction. Four other bids for the suit were received lower than Rs 1.21 crore.

 

The suit, that kicked up a political storm, is being auctioned along with 455 items that Modi had received as gifts during his nearly nine-month long tenure to generate funds for the Prime Minister's ambitious 'Clean Ganga Mission'.

The auction at the Science Convention Centre will close at 5 PM tomorrow after which the articles will be handed over to the highest bidder.

Surat Municipal Commissioner Milind Toravane said, "The gift items belonging to Prime Minister Modi are a national treasure and the money generated from the auction will be utilised for the 'Clean Ganga Mission'."

No base price has been fixed for any of the items that will go under the hammer, Toravane said.

During his chief ministerial tenure in Gujarat, Modi had initiated a trend to auction the gifts that he received in a year and it was donated to Kanya Kelavani Yojna for girl child education, he said.

Modi was photographed wearing the suit during his summit talks with Obama in Hyderabad House in Delhi on January 25 and at a joint media appearance that followed the meeting. On closer inspection, photographs showed that the stripes were actually a monogram -- Narendra Damodardas Modi -- and embroidered on the fabric vertically down the stripe.

The suit had triggered a national debate and the Prime Minister was slammed by his political opponents -- especially the Congress and the Aam Aadmi Party -- for wearing an expensive suit that some reports said cost nearly Rs 10 lakh.

Congress, AAP and TMC had on Wednesday taken potshots at Modi over putting his suit on the block and termed the auction as a "damage control" exercise.

Congress had demanded that the process of auctioning should immediately be stopped and it should be deposited with the 'Toshakhana'.
Related items
Tipu Sultan's arms and armour to be auctioned in London
Rs. 1 Crore. Bids Soar for PM Modi's 'Name-Striped' Suit in Gujarat Auction
Auction centre to flower begin soon in Udupi