Rift in AAP breaks wide open as Prashant Bhushan writes letter to Kejrival
Comments::DISQUS_COMMENTS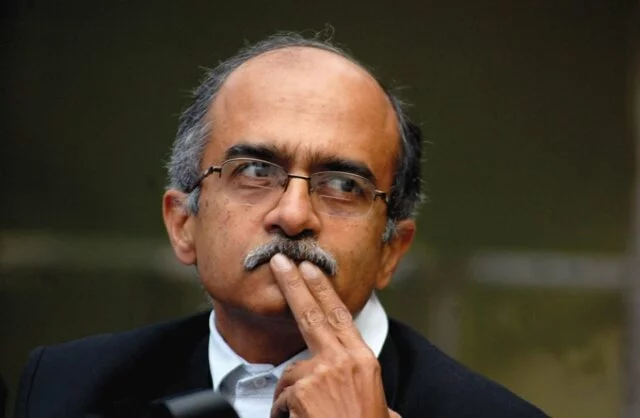 New Delhi: The rift in Aam Aadmi Party (AAP) has once again come out in the open.

After senior party member Admiral Ramdas's explosive letter, AAP co-founder and senior lawyer Prashant Bhushan has shot off a letter to the National Executive of the party expressing his anguish over the growing divide and trust deficit in the party.

Launching a scathing attacked on Chief Minister Arvind Kejriwal and party's top leadership, Prashant says AAP has also become one person-centric party.

The AAP co-founder alleges that Kejriwal overturns decision taken by the National Executive (NE) and the Parliamentary Affairs Committee (PAC).

In a joint note, both Yogendra Yadav and Bhushan have demanded to form a ethics committee to probe funds of the party.

In a detailed note written a day before the AAP National Executive on February 26, Admiral Ramdas said it is important that the party "give out clear signals that all senior members of the party - primarily the PAC - are together and united".

Prashant's note has suggestions and questions for the party and also reveals that there are "two camps" and inner conflict in the AAP.

Transparency and accountability

- AAP has put out the list of its donors but not expenses.

- Far from putting out the list of shortlisted candidates on a public website for inviting information from the public and our volunteers, AAP has not even shared the bio-datas or even the names of the candidates selected by the DECG with the PAC.

- Regular meetings of the National Executive or the PAC should be held as required by the Constitution.

- A committee should be set up to report on the systems of transparency and accountability.

- The NE needs to be expanded to have better gender and other balance, and to make it more broad based.

Inner party democracy and Swaraj

 - Clear party's stand on AAP candidates who distributed money and liquor to lure voters in Delhi Assembly elections.

- Put out all the details of MLA funds on a public website in real time.

- Arvind Kejriwal over turns decision taken by the National Executive.

Policies of the Party

- AAP has not been able to formalise the reports submitted by the 30 member expert committee even after 2 years have been passed.

Funds of the Party

- AAP has failed to spend the party fund in a systematic manner.

- AAP has no empowered committee or decision making system of deciding how the funds are to be spent.

There are some volunteers who are paid by the party but a vast majority of them are not. Why?

Unethical means and practices

- Why AAP failed to investigate who was behind the SMS sent by someone in the name of AAVAAM.

- AAP took no steps to know who published and put up the communal posters on behalf of the party.

- Criminal practices in AAP must not be allowed and mechanisms be instituted to ensure that they do not recur.

- One-man party system should be abolished.












 








 







Related items
Kejriwal ruined our family, careers, says AAP official's wife
Fake law degree row: Delhi minister Jitendra Singh Tomar arrested
Farmer Gajendra Singh's family demands CBI probe, job and memorial
Shouldn't have gone ahead with the rally, says Kejriwal