Gujarat people throng to see solar plane, take selfies with SI2
Comments::DISQUS_COMMENTS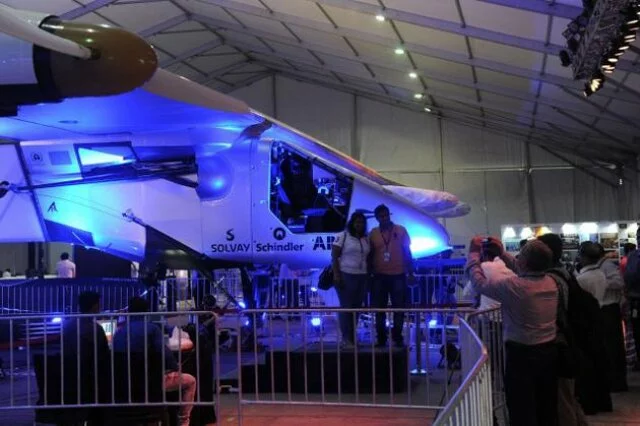 Ahmadabad:The overcast sky with chances of rain could not dampen the spirits of people, particularly the school children and youngsters, who thronged in large numbers to catch a glimpse of the world's only solar-powered aircraft 'Solar Impulse 2' stationed in Ahmedabad.

Nearly 10,000 people visited the Sardar Vallabhai Patel International Airport in Ahmedabad to see the Solar Impulse 2 (SI2) which has made a stop-over here during its round-the-world trip.

"As many as 10,000 people, including a large number of school and college students, today visited the SI2 and its team in the city," said Dharmik Lay, Deputy Manager in Human Resource and Administration with Gujarat Energy Research and Management Institute (GERMI).

GERMI is supporting the mission on behalf of the Gujarat government.

The visitors included 7,000 school and college students from remote parts of the State. Seeing the people's enthusiasm, the SI2 team extended the time for the visitors from two hours to about five hours, said Mr. Lay.
 

The visitors also included people from aeronautics and aviation sectors who wanted to understand the technological aspect of SI2, he said.

The plane's team briefed the visitors about the aircraft and also interacted with the children, Lay added.

Some teenagers were seen taking 'selfies' with the SI2 and its crew to save it as a life-long memory.

The SI2 project team also tweeted about the people's visit at the city airport.

"Thousands of Indian citizens are coming to Si2 in Ahmedabad, India today! We extended the visit time!," it said on its twitter handle.

"Schools are coming today to visit solar impulse. Great to see so many children inspired with a smile on their face," it further said.

Swiss pilot Bertrand Piccard, who led the flight from Muscat to Ahmedabad on Tuesday night, also tweeted saying, "India giving its voice for a clean future! Be a part of it: http://futureisclean.org ! FutureIsClean."

 
The globe-trotting 'Solar Impulse 2' landed here 15 hours after it took off from Muscat.

Piccard and Andre Borschberg, the project co-founder and pilot of SI2, are in the city since Tuesday and likely to stay till tomorrow before leaving for Varanasi.

From Varanasi, the SI2 would go to Mandalay in Myanmar as well as Chongqing and Nanjing in China and thereafter to USA, as per information available on Solar Impulse project's website.
Related items
MH370 families reject Malaysia's conclusion on plane debris
Army men evacuates 1,000 people in flood-hit Gujarat
MH 370 Airplane debris arrives in France for investigation
Plane debris point to breakthrough in MH370 mystery