Yadav, Bhushan expelled AAP: Medha Patkar quits party
Comments::DISQUS_COMMENTS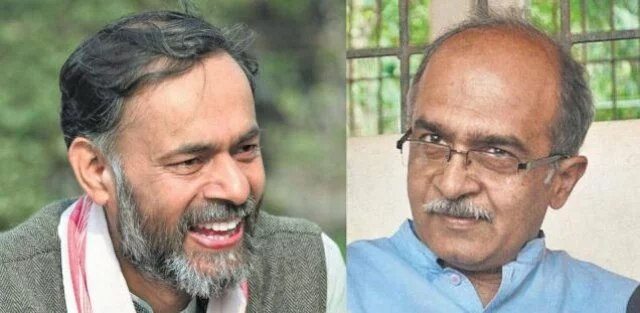 New Delhi: AAP founder members Yogendra Yadav and Prashant Bhushan, who had challenged Arvind Kejriwal's leadership, were on Saturday removed from the party's powerful national executive by an overwhelming majority at the national council meet, a move slammed as "murder of democracy" by the duo.

Amid high drama, a resolution to remove the two dissident leaders was passed by around 230 of around 300 national council members present in the meeting.

After making an emotional speech, party convenor Arvind Kejriwal left the venue before the resolution to remove the two leaders was introduced by Manish Sisodia.

"It was a murder of democracy. Everything played out in accordance with a predetermined script and the resolution was moved and passed within minutes completely disregarding laid down procedures. It was a total farce," said a visibly agitated Yadav.

Yadav's supporters Anand Kumar and Ajit Jha were also removed from the national executive at the meeting.

Bhushan alleged that there was bogus voting in the meeting and Kejriwal came fully prepared to "kick us out" from the party.

"Whatever Kejriwal was heard saying in a sting yesterday was played out in the entirety in today's meeting. There was no distinction between members and others. There was no discussion, no secret vote, no showing of votes in the meeting," the eminent lawyer said?

Yadav alleged the violence was pre-planned and that a number of NC members opposed to the resolution suffered injuries as they were heckled by "bouncers" and "outside goons".

"All the while Kejirwal stood by pretending that he was helpless," said Yadav.

The Kejriwal camp countered the allegations saying the dissident duo were "cooking up stories to get sympathy."

"They should respect the decision of the party," partly leader Ashutosh said.

Both Bhushan and Yadav said they will stay within the party and carry forward their fight for internal democracy.

"We will neither leave the party nor break it. We will reform and reform the party," they said.

The AAP will now move its disciplinary panel to remove Yadav and Bhushan from the party altogether, sources said.
 
Violence marred the meeting with supporters from both camps shouting slogans and pushing and shoving each other outside the venue.

AAP now a tamasha: Medha

Hours later, veteran social activist Medha Patkar resigned from the party, stating that it has reduced itself to a "tamasha."

"What happened at the AAP meeting in Delhi today is unfortunate," Patkar told reporters in Mumbai after announcing she was leaving the party.
 
"Political principles are being trampled upon in the party," said the veteran activist, who has been a key figure in the Arvind Kejriwal-led outfit.

Yadav stages dharna

Shortly before the meeting began, Yadav staged a brief dharna alleging that many members were not allowed to attend.

"I am told that at least 15-20 legitimate members, who have been sent invitations, are not being allowed inside," Yadav told reporters outside the venue at Kapashera on the outskirts of Delhi.

Almost 10 days of negotiations have failed to bridge the gap that emerged after the party's disastrous national election debut last year and that has widened in the days since the party scored a spectacular victory in the Delhi assembly elections.

A senior party member told HT that the party's break up cannot be ruled out.

Split wide open

Chances of a truce had nosedived on Friday as Bhushan and Yadav publicly accused Kejriwal of stifling internal democracy and adopting unfair means to capture power, while the other camp hit back, alleging that the party veterans were trying to sabotage the two-year-old outfit.

Adding fuel to the bitter feud, an audio sting tape surfaced late in the evening in which Kejriwal is purportedly heard hurling invectives at Yadav and Bhushan, saying he was not interested in talking to them and that if needed he would quit AAP and float a new party with his 67 MLAs. 

Analysts say if the tape is authentic, this shows that while the Delhi chief minister was publicly silent as the dispute was snowballing, he had probably made up his mind that there could be no reconciliation and the two senior leaders had to go.

Yadav and Bhushan alleged at a press conference that any issue raised by them was being projected as questioning Kejriwal's leadership and attempts to remove him from the post of AAP's national convenor.

The party has been torn between two camps, one supporting Kejriwal and the other comprising veterans like Yadav and Bhushan who have accused the chief minister of running things in a dictatorial way.

Yadav and Bhushan said they will quit all "executive posts" if the 5 demands they had placed before the leadership—including bringing the party under the ambit of the RTI Act, ordering a probe by the AAP's ombudsman into allegations of wrongdoing and giving state units more autonomy—were met.

"We had sent a note to the party placing our demands which is now being shown as our resignation letter, whereas it was a conditional letter to resign. We had said if our five demands are met, we will resign from all party posts," Yadav said.

Bhushan criticised Kejriwal accusing him of trying to poach Congress legislators to form a government in Delhi last year.

The Kejriwal camp struck back minutes later, saying Yadav and Bhushan were attempting to damage the party and discredit it with baseless allegations.


Related items
Kejriwal ruined our family, careers, says AAP official's wife
Fake law degree row: Delhi minister Jitendra Singh Tomar arrested
Farmer Gajendra Singh's family demands CBI probe, job and memorial
Shouldn't have gone ahead with the rally, says Kejriwal