Kashmir floods: Army launches rescue operations, Naqvi takes stock of flood situation
Comments::DISQUS_COMMENTS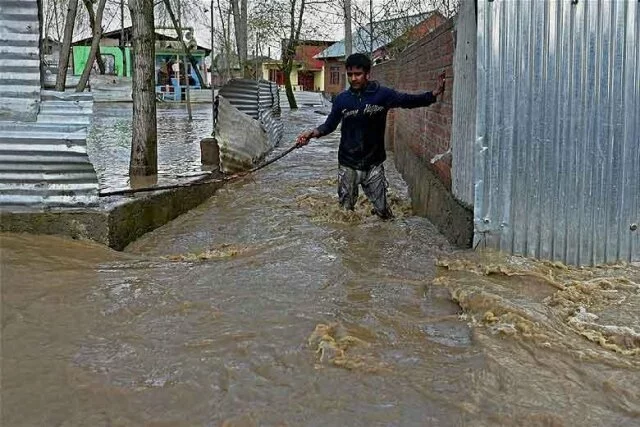 Shrinagar: Armed forces have launched a rescue operation in flood-hit Jammu and Kashmir by deploying 20 columns and kept helicopters on standby.

"The Army has placed 20 flood relief columns ready to react and deploy at short notice", Public Relation Officer (PRO), Defence (Northern Command), Col SD Goswami told PTI.

One Army column consists of 75 to 100 troops.

"Due to incessant rains and rising levels of water above danger levels at Sangam and Ram Munshi Bagh, Indian Army was formally requisitioned for aid to civil authorities for floods for Srinagar District from Civil Administration on the evening of 30th March", Col Goswami said.


The Indian Air Force has placed its resources on standby and is also keeping a close watch on the flood situation in the state, Col Goswami said.
"Two Mi-17 helicopters each at Jammu, Udhampur and Srinagar. And one each Cheetah helicopter of IAF are on standby at Srinagar and Jammu to be part of rescue and relief operations", the PRO said.

"A house had collapsed at Laten in South Kashmir on 29th March. Army's rescue column was immediately dispatched for rescue operation and operations are in progress", Col Goswami said.

Meanwhile, Union Minister Mukhtar Abbas Naqvi on Monday visited Pattan area in north Kashmir's Baramulla district to take stock of the situation arisen due to heavy rainfall.

"Naqvi, accompanied by state Minister for PHE, Irrigation and Flood Control Sukhnandan and Minister for Technical Education Imran Reza Ansari visited several villages of Pattan and other adjacent areas to take stock of the situation which has arisen due to incessant rains," an official spokesman said.

While interacting with people, the ministers assured them that necessary mechanism have been put in place by the government for dealing with the flood situation.

They said that control rooms have been established in North, South and Central Kashmir to monitor the water levels.

The ministers also appealed to the people not to panic as every possible step was being taken to deal with the flood threat and around four lakh sand bags have been made available to strengthen the river banks and to deal with any eventuality.

Earlier in the day, Naqvi was briefed by the state ministers about various steps taken by state machinery in dealing with the situation.

Naqvi was on Monday tasked by Prime Minister Narendra Modi to make assessment about the flood situation and coordinate with the state government besides officials of the army involved in rescue efforts.















Related items
Kashmiri youths joining militancy; funds flow from Gulf
Pakistan army chief vows to make nation "terror free"
Manipur militant attack: 20 killed, 12 injured
Delhi bans sale; Centre files complaint against Nestle, Maggi taken off Army's menu