SC issues notice to BJP leaders LK Advani, Joshi, 18 others
Comments::DISQUS_COMMENTS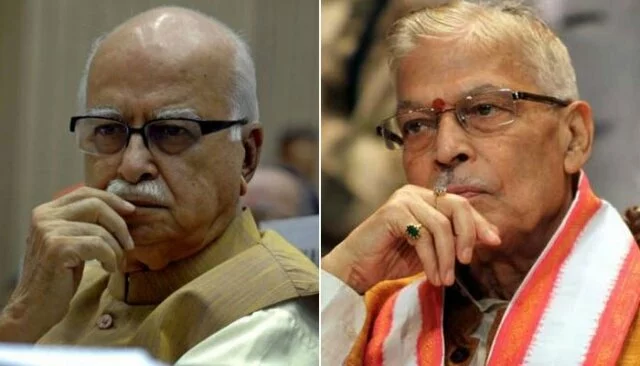 New Delhi: The Supreme Court on Tuesday issued a notice to senior BJP leader LK Advani and 19 others on a petition filed by Haji Mahmood (of the Sunni Waqf Board), challenging the 2010 Allahabad High Court verdict acquitting them of criminal conspiracy in the demolition of the Babri Masjid on December 6, 1992.

A bench of Chief Justice HL Dattu and Justice Arun Mishra, meanwhile, granted four-week time to the Central Bureau of Investigation and others to explain the delay in appealing against the HC order.

Though the matter is pending before the apex court since March 3, 2011, but for the first time it came up for hearing after the formation of the Narendra Modi government, triggering speculation whether there would be any shift in the stand of the government from the one taken by the UPA government.

The notice on the CBI plea was issued on March 03, 2011 and the matter has been listed before the court 23 times.

The CBI, which had moved the apex court on February 18, 2011, nearly nine months after the Allahabad High Court verdict on May 20, 2010, has yet to persuade the court on the justification for delay in challenging the High Court order.

The CBI, in its appeal before the apex court, has said that the verdict discharging Advani and others of the offence of criminal conspiracy "is inconsistent with the previous judgment rendered by the Allahabad High Court on February 12, 2001".

The Lucknow bench of Allahabad High court by its February 12, 2001 order had held that the trial court committed no illegality in taking "cognizance of joint consolidated chargesheet and all the offences were committed in the course of the same transaction to accomplish the conspiracy".

The High Court by its said order had noted that the "evidence for all the offences was almost the same".

Besides Advani, other accused include senior Bharatiya Janata Party leaders MM Joshi, Vinay Katiyar, Uma Bharti and former Uttar Pradesh chief minister Kalyan Singh, and Vishwa Hindu Parishad leaders Ashok Singhal, Giriraj Kishore, Hari Dalmiya, Sadhvi Ritambrara, and Mahant Avaidyanath.
Related items
Journalist killing: SC issues notice to Center and UP govt
Lalit Modi names 3 UPA ministers who also 'helped' him
Karnataka government to move Supreme Court in Jayalalithaa case
Karnataka government to hit Jayalalithaa with Supreme Court case