20 sandalwood smugglers shot dead in Police encounter in Chittoor
Comments::DISQUS_COMMENTS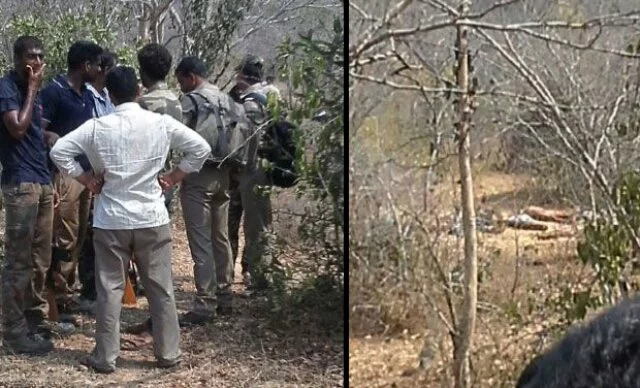 Hyderabad: Twenty red sander smugglers were killed in heavy exchange of fire after they attacked the police in the wee hours today in Andhra Pradesh's Chittoor district.

Some police and forest personnel were also injured in the face-off, police said.
The incident occurred at two places in Seshachalam forest area of Chandragiri mandal in Chittoor.

"Twenty red sander smugglers have died at two places. There was an exchange of fire with our task force personnel. They (smugglers) were carrying red sander logs and attacked the police and forest personnel with sickles and fire arms. They also attacked the personnel with stones," Additional DGP (Law and Order) R P Thakur told PTI.

After the police personnel came under attack, they retaliated, he said.
"The smugglers, once challenged by the police, tried to overpower the security personnel and carry away the logs. In the process, they attacked the policemen," Thakur said.

"Most of the smugglers are from Tamil Nadu...they regularly come in our area and cut red sanders which is transported in small vehicles to different places," he said.

There are reports that some police and forest personnel have also been injured in the attack, the details of which are awaited, the ADGP said.

The red sander woodcutters come in large numbers of around 100. There is a master organiser who sends the wood cutters.


There have been similar incidents last year also in which the red sander smugglers attacked police and forest personnel, who too retaliated resulting in killing of some of the smugglers.

In May last year, a group of around 200 red sander smugglers had attacked a police team with stones in Mamanduru forests in Chittoor prompting them to fire in the air.

Prior to that, a group of around 50 smugglers had attacked a police party with axes while they were on a combing operation in Seshachalam forest.

Red sanders grows mainly in Seshachalam hill ranges spread across Kadapa, Chittoor and Kurnool in the Rayalaseema region and parts of Nellore district in AP.

It is a valued item in traditional medicines and woodcraft across China, Myanmar, Japan and East Asia.


Related items
Sonam Bajwa to debut Sandalwood opposite Puneetha Rajkumar
12 Maoists killed in police encounter in Jharkhand
Arrest warrant issued against Pooja Gandhi
No big releases in Sandalwood due to World Cup