We are with you, Modi assures Muslims
Comments::DISQUS_COMMENTS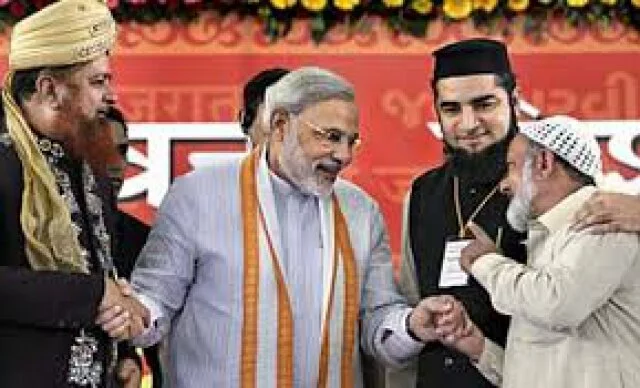 New Delhi: Prime Minister Narendra Modi on Monday listened to top Muslim religious leaders on the grievances of their community and pledged his government's "sincere and unbiased" support for the empowerment of the Muslim youth to enable them to play a larger role in nation building. 

In the first such interaction since his government came to power, Modi specifically assured the leaders that he will look into their grievances regarding issues concerning shrines, masjid and madrassas. 

The Muslim leaders told Modi that there was need for greater unity and collective efforts to meet the challenge of increased radicalisation and emerging threat of terrorism.
Modi said his government would provide "complete assistance" in ameliorating the social conditions of Muslims, addressing their educational requirements. 

A PMO statement said the Muslim leaders reiterated full support of the community to the prime minister in meeting his objectives of ensuring speedy economic growth, promoting communal harmony and peace and strengthening national security.

"The prime minister gave a patient hearing to the delegation and assured them of his full support in meeting grievances of all sections of the Muslim society," the PMO statement said. 
Modi tweeted a picture of his meeting with the Muslim leaders, saying that he "had a good meeting with leaders of the Muslim community".

Related items
PM Modi meets prize winners of Techno-Challenge 2015
Commander-in-Chief of Myanmar Defence Services meets PM Modi
PM should break his silence on farmers suicide: Janardhan Poojari
Eid Ul Fitr celebrated with devotion and pomp