Faulty number plates on the bike: Dhoni fined
Comments::DISQUS_COMMENTS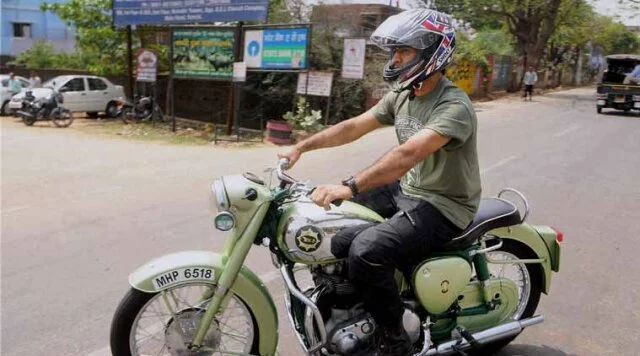 Ranchi: Mahendra Singh Dhoni has been penalised for violating traffic rule during his short stay in his home town here, a senior police officer on Wednesday said.

Dhoni was slapped with a fine of Rs.450 for faulty display of number plate on his motorcycle, Superintendent of Police (Traffic) Karthik S said.

The registration number of his bike was displayed in vertical manner on the mud guard of the front wheel, which is violation of the Motor Vehicles Act.

Dhoni was charged for violation of section 179 of the Motor vehicles Act and section 50 and 51 of the Central Motor Vehicle rule, Karthik said.

 
Ranchi Traffic Police has launched a drive since March 16 to strictly enforce number plate regulation on vehicles.

As Dhoni had already left Ranchi to take part in the IPL-8, Karthik said the police spoke to his family members who agreed to pay the fine on his behalf.






Related items
Bike riders injured in Auto Rickshaw-bike collision
Denigrating Hindu God: Karnataka HC critical of Dhoni
Bikes collide head on near Surathkal: One dies, another critically injured
Rider, child injured as car ramms into the bike