Archaeologists unearth 5,000-yr-old skeletons in Hisar
Comments::DISQUS_COMMENTS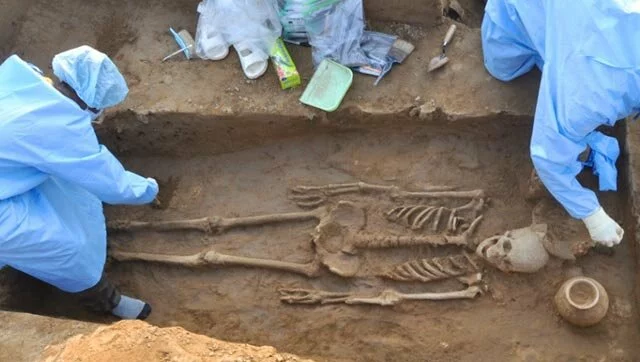 Hisar: In a significant recovery, archaeologists have found four 5000-year-old complete human skeletons from the biggest site of Harappan civilisation at Rakhigarhi village in Hisar district.

These skeletons belong to two male adults, one female and a child.The excavation project, which started in 2012, is being carried out by the Deccan University, Pune, in collaboration with the Haryana state archaeological department and the Seoul University of South Korea.

"It is always great to be associated with any such finding," says project co-director Nilesh Jhadav, who is working with a team of three members at Rakhigarhi, 60 km from Hisar.

The archaeologists have also found certain things that reveal that the settlers believed in reincarnation.

"We have found some material like pottery with grains of food, and shell bangles located near or around skeletons which enabled us to conclude that the settlers believed in reincarnation," Jhadav said.

The burial site, which according to the archeologists, is spread over more than 50 acres of land is situated on mound number 7 of the site. "We have nine localities here which we refer to as mounds. The mounds are numerically named, and the 
burial site is situated on mound number 7."

In the current project, the archaeologists are working on three mounds, mound number 4, 6, and 7. According to archeologists, the excavations at the different mounds have different significance.

The excavation at mound number 4 will help them to figure out how and when did the Harappans settled here while the mound 6 reveals how were they living. Likewise, the mound number 7 has been established as the burial place, the archaeologist said.

"We are currently excavating vertically from mound number 4. Our aim is to try to reconstruct the complete cultural sequence of the Rakhigahri which includes figuring out when did the first settlers come here, what changes happened when they entered in the urbanisation phase," says Jadhav.

The archeologists are sure that when settlers came to Rakigarhi they settled here on mound number 6, also known as "Arda" as various early Harappan elements are found here. "We have found early Harappan stuff, like pottery and antiquities. This proves that when the first settlers came to Rakhigarhi they settled near or on mound number six," Jhadav said.


TOY CULTURE

During the excavation, it has also come to the fore that toy culture must have been in the vogue among the Harappans.

According to Malavika Chatterjee, one of the researchers, the toys found out during the excavation reflect certain aspects of the Harappan life.

"We have found various types of toys, mostly figurines of animals as well as of mythical characters. A figurine of dog with a leash points towards their domestication aspect. Then we also found figurines of unicorns too, giving us impression about their mythical state of mind," she said.

Besides, the toys include mini wheels, miniature lids and sling balls of different sizes. The stuff is mostly made up of terracotta.

Harappan jewellery and the stamps found during the excavation give the impression that the settlers used to go out for their trade and also used to get some of their jewellery from outside the state.

"Normally, the shell bangles which we found here are actually found along the costal Harappan site in Gujarat. This makes us believe that the settlers here used to do some trade and get their jewellery from there. We also found Lapis Lazuli- a stone normally found in Afghanistan. This shows how far away they used to go for their trade or purchasing things," another researcher Shalmali Mali said.

"The seals which we found have some tiger like figures inscribed on them and we assume it must have been used for identity purposes and not as currency as not many of them were found here," says Shalmali.

She adds that bones from various animals were reshaped in different lengths probably used as hairpins.

Besides, beads of various shapes and types like carnelian beads (red stones), ivory beads along with pendants from black stone and agate were also found during the excavation.


HUNTING TOOLS

The archaeologists have also found various tools which could have been used for hunting and fishing purposes.

"Generally, the Harappans used to use copper metal in their sharp tools. We found copper hafts, which they must have been using for hunting purposes. We also found fish hooks indicating towards their fishing habits."


WEIGHTS

The "chert" weights were also found during the excavation. Weights like these were used throughout the Indus Valley.

The archaeologists believe that they were used in trade or taxation. The weights found in the Indus Valley are seen as a part of a standardised system.


Related items
Kolkata man found living with the skeletons of his late sister and two dogs since six months