Will transform 'scam India' to 'skill India': PM Modi
Comments::DISQUS_COMMENTS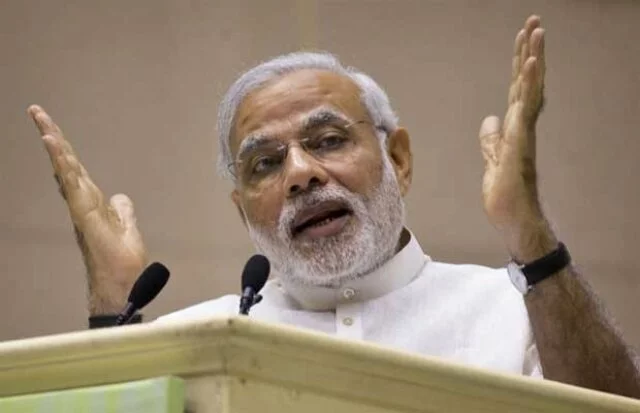 Canada: Contending that development is the only answer to all of India's problems, Prime Minister Narendra Modi today vowed to clean up the "mess" created by others and change the country's image from the one of "scams" to that of a "skilled" nation.

Modi said the "jan mann" (the attitude of people) had changed over the last 10 months since he took over and there was now an "atmosphere of trust" which was making things happen like the voluntary participation in Clean India campaign, rich people giving up LPG subsidy and bank accounts being opened for the poor.

Addressing a gathering of Indian community where Canadian Prime Minister Stephen Harper and his wife were also present, Modi exhorted the Indian diaspora to contribute to their home country's development by sharing their expertise and experience.

"The country is facing many challenges. And there is only one medicine," he said. As the crowds shouted "Modi, Modi", the Prime Minister said it is not him but something called "'vikas' (development) is the solution to all the problems of the country.... Only development can take the country forward."

Taking an apparent dig at the previous governments, Modi said he had started a cleanliness drive in the country. "Jinko gandagi karni thi, woh gandagi kar ke chaley gaye, par hum safai karenge (Those who had to create a mess, they have done so and left. We will clean it up)," Modi said, without elaborating.

"The nation is huge and there is a lot of mess. It has been there for long. It will take time but it will be done as the attitude of people has changed," he said. "Earlier, the country was known as 'scam-India'. We want it to be known as 'skilled-India'," he said while talking about the various initiatives taken by his government.
He said the people of the country have enough potential but they only needed an opportunity.
Modi said it was with the aim of strengthening the hands of the people of India that he was asking various countries to share their expertise and technology.
He underlined that India had the youth power as 65 per cent of its population is below 35 years of age and if they decide to work for the progress of the country, nothing can stop the nation.
He said the march of development has already started over the last 10 months in a "transparent and corruption-free" environment.
In this context, the Prime Minister said while earlier two km length of road was being built per day, now 11 km is constructed in a day. 

The Prime Minister cited a Bollywood song 'kitna badal gaya insaan...(how much the human has changed)' to make his point that the attitude of people has changed in India and they needed to be trusted to make things happen.

In this regard, he said after he gave a call for "swachh bharat" (clean India), common people have come forward to clean up places. He said his government is focussing on skill development as he was of the view that by 2030, the developed world would require skilled people in a large number and India will be the only place to source them.

The government is planning to do mapping of nations to assess requirement of various countries and work accordingly, Modi said. The government is also working on encouraging youth to set up their own businesses by which they cannot only have employment for themselves but also recruit some others as well, he said.

"I want to say that India has the talent...Indians make the country proud by doing wonders in the IT sector, still why Google was not born in India? It is the same talent which works abroad. I have to give opportunities to them at home," he said and mentioned the launch of Atal Innovation Mission (AIM) in this regard.

Modi also pitched for developing dignity of labour, saying it had been lacking in the country. But "today, the youth is ready to take up any kind of job. That is the reflection of change in 'jan mann' and we want to give them opportunities."

Emphasising that he wants the youth to be job creators not job seekers, he said, "80 crore youth population, 80 crore dreams, 160 crore strong hands. What can we not achieve?" 


"In 10 months, not only has the government changed in India, there has been change in attitude of people," the Prime Minister said, adding that it will have a huge positive impact.

Mentioning his initiatives like the push for building of toilets and cleanliness, Modi said he focusses on things which may seem to be small for others. The shape of the nation will change through such "small things", he said.

Talking about his initiative for opening bank accounts for the poor, he said he had suggested that these could be opened even with zero balance. "But see the richness of the poor people. They still deposited Rs 14,000 crore in these accounts," he said, adding that this reflects change in "jan mann".

In this context, he said the then Prime Minister Indira Gandhi had nationalised banks for the benefit of the poor but still 40 per cent of the population remained outside the banking system. This has been addressed by opening of 'Jandhan' accounts, whose number has risen to 14 crore, "equal to three Canadas (three times population of Canada)", Modi said with Harper among the audience.

Modi also said that on the basis of his informal suggestion, 14 crore well-off people have given up subsidised LPG. The Rs 200 crore saved on this account will be transferred to provision of LPG to those who still use wood for cooking and hurt their health as well as ecology.

"This was not done by any order or law. This was not done by Modi but common people because the attitude of people is changing," he said. The Prime Minister also mentioned that the owner of a newspaper had written to him, informing that the publication will have only positive news once a week.

"Earlier, President A P J Abdul Kalam had said th

at newspapers should have column for positive news. I didn't even dare to say that. But there is change in attitude," he said, adding that if this continues the nation can realise its dreams.
Related items
CM Siddaramaiah to meet PM Modi: To seek help on Kalasa-Banduri
PM Modi mentions 'Moodabidre' in his 'Mann ki Baat'
Drugged Horse Throws Sikh Groom Into Canadian Air: Video Goes Viral
Will fulfill my promises and do beyond that says PM Modi in Bihar