Half Girl friend might cost Rs. One crore to Chetan Bhagat
Comments::DISQUS_COMMENTS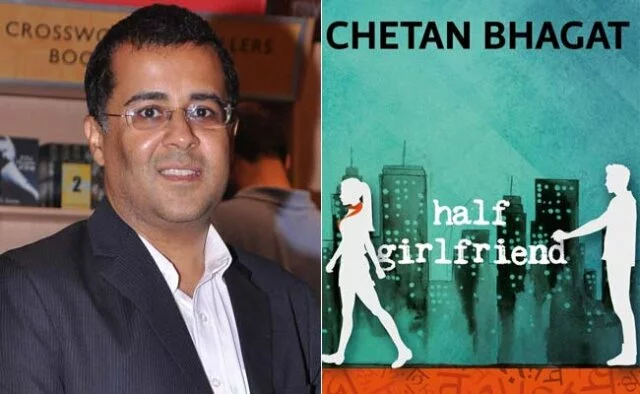 Patna: A scion of the erstwhile princely state of Dumraon in Bihar has slapped a Rs 1 crore defamation suit on author Chetan Bhagat, saying male members of the royal family had been maliciously portrayed as alcoholics and gamblers in his bestselling novel 'Half Girlfriend'.

The suit has been filed in the Delhi high court by Chandra Vijay Singh for "express and implied references" to his family in Bhagat's best-selling book, 'Half Girlfriend', which are "false and derogatory in nature".
 
Singh is the eldest son of Maharaja Bahadur Kamal Singh, the last ruler of Dumraon, before its accession to the Indian state in 1952 and a two term Lok Sabha MP.
 
Apart from Bhagat, Rupa Publications, publisher of 'Half Girlfriend', has been named as the other respondent in the defamation suit.
 
Singh has also prayed for a permanent injunction for restraining Bhagat, Rupa and all others concerned from further publication, sale and circulation of 'Half Girlfriend' in its present form and content "with immediate effect".
 
The Delhi high court has issued summons to Bhagat and Rupa Publications, to appear before it on May 1, either in person or "by a pleader duly instructed and able to answer all material questions relating to the suit..."
 
Confirming this, petitioner Singh's son, Shivang Vijay Singh, said Bhagat had been given every chance to make amends to repair the damage caused to his family's reputation but he did not take the family's concerns seriously.

"I also understand that the word 'Dumraon' has been changed to 'Sunraon" or some such name in the Hindi translation of Half Girlfriend. This is tacit admission and we were right all along," he told HT late Tuesday evening.
 
To make his point, petitioner Singh has cited an excerpt from page 25 of the book wherein the protagonist says: "My ancestors were landlords and from the royal family of Dumraon, the oldest princely state in British India... My great-grand uncles squandered their money, especially since they all felt they could gamble better than anyone else in the world. Several near-bankruptcies later, the women of the house took charge as the men had all turned into alcoholics."
 
Singh has argued in his plaint that this and several other references made to his family in 'Half Girlfriend', first published in October 2014, were not correct and cast aspersions on his family that had held it up for ridicule.
 
Insisting that the references were "deliberate and malicious", Singh says his lawyers sent a legal notice dated November 14, 2014 to Bhagat and Rupa publication asking them to make amends.
 
In his reply dated November 25, Bhagat, says Singh in his plaint, expressed his regret and offered his lifelong friendship to the family. But Bhagat, then, made a "mockery" of his grievance by a post on social media site Twitter.

Singh quotes Bhagat as tweeting at that time: "Meanwhile, have to write letter to the family in Dumraon explaining the meaning of fiction and imaginary stories. Will do so privately."
 
Thereafter, Singh sent another notice to Bhagat and Rupa dated December 8, 2014, stating Bhagat's expression of regret was not enough to repair the damage caused to the reputation of the Dumraon family.
 
In his reply dated December 15, Bhagat, says Singh, appeared to imply "he was willing to settle the matter". But when there was no further response from the author, Singh sent him a third notice dated January 16, 2015.
 
To this, Singh says, Bhagat sent a "vague" reply, thereby causing him to file the defamation suit.
 
Singh says the damage caused to the reputation of his family "is enormous and cannot be assessed and in any case, is much more than the token amount of rupees one crore only (Rs 1,00,00,000)", claimed in the suit.
 
He has also sought references to "the royal Family of Dumraon" to be expunged from 'Half Girlfriend' and recall of all copies of the book in its present form, besides an unconditional apology from Bhagat and Rupa.

The erstwhile princely state of Dumraon, located about 100 km west of Patna, was founded by a branch of Ujjainia rulers and the reign of first King of Dumraon, Raja Bhoj Singh is traced back to the year 1018.