Spend some good time with family, PM Modi urges bureaucrats
Comments::DISQUS_COMMENTS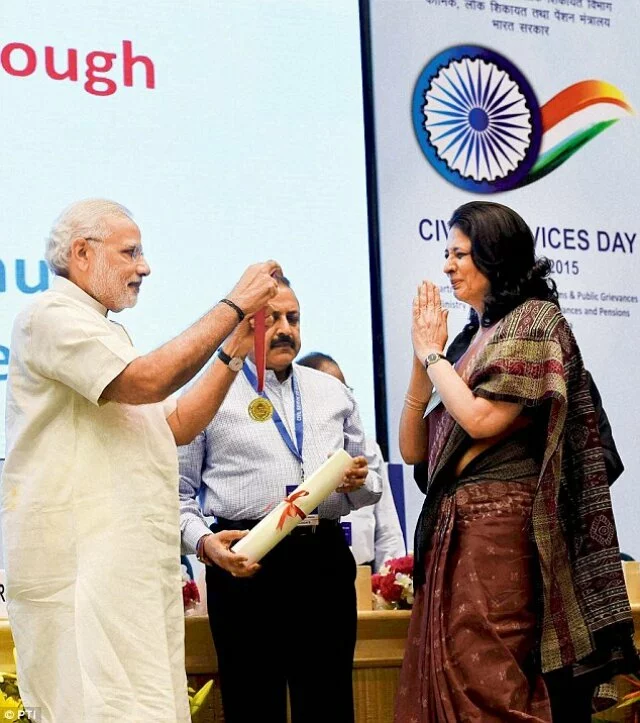 New Delhi: Prime Minister Narendra Modi on Tuesday, while addressing civil servants at the ninth Civil Services Day function in the Capital, advised them to spend quality time with their families and not live like robots. 

'A life full of tension cannot achieve anything, especially when you have to run the nation… You are good at time management but do you spend quality time with your family? Please think about this,' Modi told civil servants.

Speaking at Vigyan Bhawan, the prime minister urged civil servants to differentiate between political intervention and political interference while saying that the former was a necessity in a democracy and the latter could destroy the system. 

 'Every problem has a solution, which needs to be found out. Accountability, Responsibility and Transparency is an ART which is responsible for good governance,' Modi said. 

The prime minister also took the opportunity to award and honour several bureaucrats on the occasion. Stating that bureaucratic temperament and political interference are oft-talked about as obstacles in a progressive democracy, the prime minister said, 'Bureaucracy and political intervention go hand in hand in a democracy'. 

He also said there was a need to remove words like obstacle and difficulty from within the bureaucratic system. 'If a department stops working, you ask what happened. You say it is the bureaucratic way of functioning. Similarly, if some work is stuck, we say it is political interference,' the prime minister said.

Modi also said there was a need to give impetus to reforms and technology. 'The day is not far when the world will look towards mobile governance,' he said.

Recalling the contributions of the country's first home minister Sardar Vallabhbhai Patel's contribution in integrating India, Modi said there was a need for socio-economic integration in the country as of today. 'We will think of a model that gives importance to integration, that brings people closer to each other,' he added.

Extending his congratulations to the officers who were honoured for their distinguished services in various fields, Modi said there was lot to learn or replicate from the good work of the awardees. 'Our work is not only to run the departments. We have to be innovative and modernise the departments as well,' the prime minister said, adding that priority must be given to perfection and capacity building.