Gajendra Singh's suicide rocks Parliament, Modi meets key NDA ministers
Comments::DISQUS_COMMENTS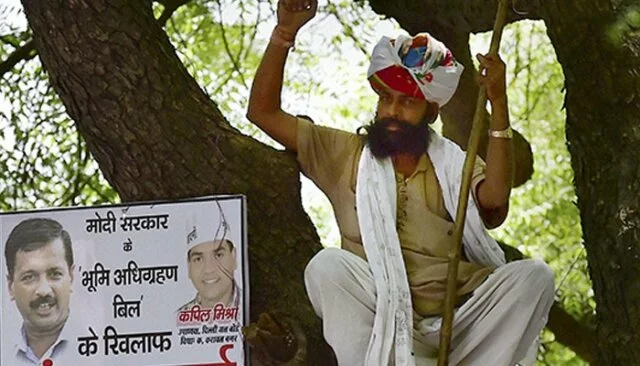 New Delhi: The opposition Congress on Thursday walked out of Lok Sabha after its adjournment motion to suspend the Question Hour to protest the suicide of a farmer from Rajasthan was denied by the Speaker. The House was adjourned following the uproar.

Gajendra Singh, a distressed farmer from Dausa in Rajasthan, committed suicide by hanging himself from a tree at New Delhi's Jantar Mantar in the presence of Delhi Chief Minister Arvind Kejriwal at an Aam Aadmi Party rally. He was cremated at his village on Thursday. Dausa MP Sachin Pilot and former Rajasthan chief minister Ashok Gehlot have arrived at the village.

Prime Minister Narendra Modi met key NDA ministers including Home Minister Rajnath Singh, Parliamentary Affairs Minister Venkaiah Naidu, Defence Minister Manohar Parrikar and Transport Minister Nitin Gadkari on Thursday to discuss the matter.

Earlier in the day, Rajnath also met Delhi Lt Governor Najeeb Jung and Delhi Police chief BS Bassi and sought immediate inquiry into the matter. The Delhi Police is investigating whether it was a suicide or an accident. It has, however, filed a case of abetment to suicide in the matter.

The suicide in full public view triggered a massive blame game with the AAP and the BJP attacking each other over the tragedy, while the Congress targeted both the parties for it and demanded registration of a case of abetment to suicide against the central and Delhi governments.

Youth Congress activists protested outside Arvind Kejriwal's residence, accusing him of continuing with the rally even after Gajendra's death. Kejriwal on Thursday clarified that he had asked Delhi Police personnel at the spot to rescue the man and even thought of cancelling the rally after the death.

But a relentless attack by the opposition coupled with a shocking remark from a senior AAP leader worsened the matter on Wednesday. At a press conference after the tragedy, journalist-turned-politician Ashutosh said, " Now we cannot expect Arvind Kejriwal himself to climb the tree to save the man?" As the remarks created a furore, he later tweeted his apology.






Related items
Same-sex marriage bill introduced to Australian Parliament
25 Congress MPs suspended for 5 days from Lok Sabha
Parliament logjam: Government calls an all-party meeting
Congress raise Lalitgate, Vyapam issue in Parliament:Session disrupted