The body of the farmer Gajendra Singh to be cremated today
Comments::DISQUS_COMMENTS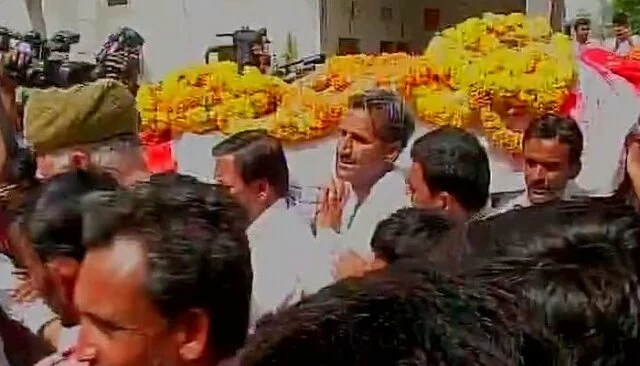 New Delhi: 41-year-old Gajendra Singh, a resident of Dausa district and father of three, took his life by hanging himself from a tree on Wednesday, while Delhi Chief Minister Arvind Kejriwal was addressing a farmers rally on the issue of Land Acquisition Ordinance. He will be cremated on Thursday at 10 AM.

Family of a farmer from Rajasthan, who committed suicide at a public rally in the national capital, claimed that he took the extreme step due to "unexpected loss" of his crops. Gopal Singh, the victim's uncle, said, "Gajendra was under stress and disturbed due to loss of crop."

"He took the extreme step due to unexpected loss. He earned his livelihood through farming and after the loss, he was disturbed," Gopal said. 

The Dausa district administration, however, countered the family's claim, saying, loss of crop "does not appear to be the reason" behind it. "Loss to crops does not appear to be a reason of suicide. His family's financial condition is fine and they have farm houses and his uncle is the local village sarpanch," Dausa's Additional District Collector, Kailash Sharma said.

Kailash further claimed that "not a single farm in Baswa Tehsil, where the farmer's village falls, is entitled for compensation. During the survey conducted by the district administration to assess loss to crops, it was found that the damage in all the farms in that Tehsil was below 33 per cent therefore no farmer was eligible for compensation."

Also, Sub-Divisional Officer Bandikui, Dayanand Sharma, claimed that "Gajendra never approached the authority to demand any compensation. According to Bandikui SHO Laxmikant Sharma, "Gajendra Singh had 8 bighas of land and had cultivated wheat."

Unmindful of the appeals from AAP leaders and workers to climb down from a tree at Jantar Mantar, the rally venue, Gajendra put his towel around his neck and hanged himself. Dausa district is about 60 kms from Jaipur.

 


Related items
Trainee woman cop, recruited through Vyapam 'commits suicide'
Bus conductor commits suicide in Katipalla
Missing man ends life by jumping into the well in Katipalla
Man commits suicide after his video goes viral: Locals express suspicion over death